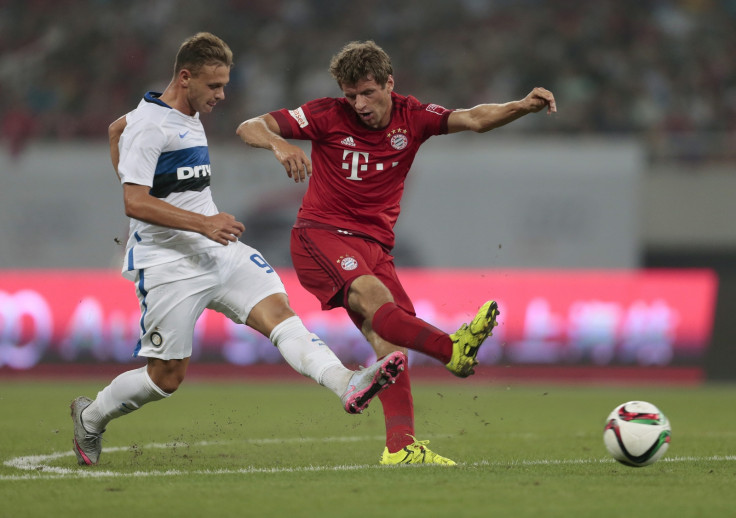 Bayern Munich chief-executive Karl-Heinz Rummenigge has reiterated that Manchester United's attempts to sign forward Thomas Muller stand no chance of succeeding.
German publication Bild has linked Louis van Gaal's side with a £70m ($109m) move for the World Cup winner, according to The Guardian, as the club attempt to bolster their forward line.
Muller has become an increasingly peripheral figure at Bayern under the reign of Pep Guardiola but was still able to score 13 goals in 28 Bundesliga starts as the club romped to the league title.
However, Muller's regressing reputation at the Allianz Arena has not altered Bayern's stance on his future and when asked about United's interest in the player, Rummenigge told Kicker the deal had as much chance of being completed as "a flying duck over the ocean".
Following Bastian Schweinsteiger's move to Old Trafford, Rummenigge was forced to deny that any other players would be joining the Premier League giants from Bayern.
"I can calm all the worries of all Bayern supporters," Rummenigge told reporters according to Goal.com. "We will not let another player leave for Manchester United."
Van Gaal has confirmed he is planning a "surprise" signing during the remaining weeks of the summer transfer window, but has denied that the new additions will definitely be a striker.
Wayne Rooney and Javier Hernandez are set to start the season as United's only senior strikers, with James Wilson the sole player in reserve after the departures of Robin van Persie and loanee Radamel Falcao.
However, despite Rummenigge denying Muller will move to United, captain Philipp Lahm has refused to give any guarantees over the future of his fellow countryman.
"It's not my decision," Lahm told reporters according to The Guardian. "Things can happen very quickly in football. I certainly can't provide any guarantee for Thomas Müller [staying]."