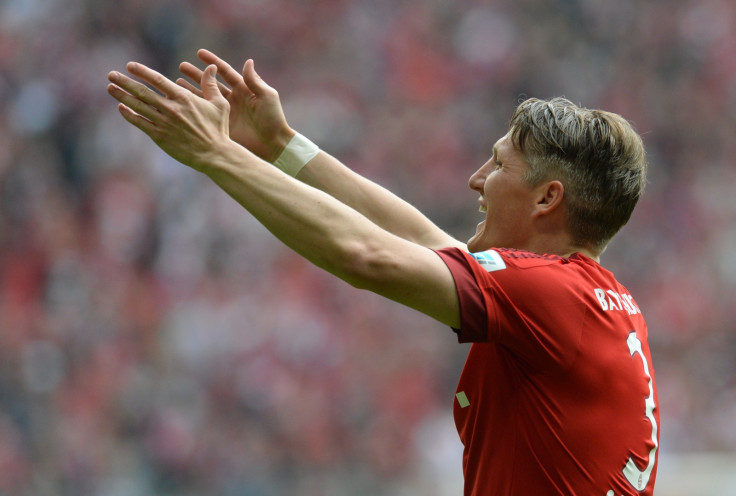 Bayern Munich insist there is no chance of any more of their players following Bastian Schweinsteiger to Manchester United.
The Bundesliga champions confirmed on Saturday 11 July that Schweinsteiger, 30, had asked to leave the club in order to reunite with Louis van Gaal at Old Trafford.
United have since confirmed the move pending a medical in a move which will cost the club £15m, according to Bild.
The Premier League club have also been credited with keen interest in Bayern's Thomas Muller, who rejected the club's advances during van Gaal's first summer in charge last year.
The Independent were one of a number of outlets to report a £60m bid is being prepared for the Germany striker. However, Bayern CEO Karl-Heinz Rummenigge insists there is no chance of Muller following Schweinsteiger out of the club.
"I can calm all the worries of all Bayern supporters," Rumminigge told reporters. "We will not let another player leave for Manchester United.
Muller admitted he had considered an offer from Old Trafford, recently telling Bild: "When a request comes, automatically you deal with it.
"A request from a big club is an honour and a reward for good performances. But I feel happy at Bayern, and my contract runs until 2019. There is nothing more to say on these speculations."
Adding another forward to their ranks could be a priority for United heading into the new season, however. Robin van Persie is expected to complete his move to Fenerbahce in the coming days after the Turkish giants confirmed positive talks with the player and United on Thursday.
There is also doubt over the future of Javier Hernandez, who, after spending last season out on loan at Real Madrid, has been touted as a possible target by Sevilla boss Unai Emery.
With Radamel Falcao also gone after the club turned down their option to make last season's loan deal a permanent one, United could be left with just Wayne Rooney and youngster James Wilson up front should others also move on.