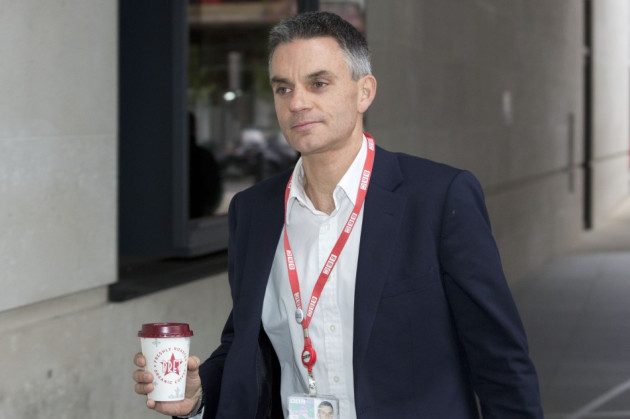 The BBC News director Helen Boaden and deputy Stephen Mitchell have announced they will 'stand aside' over the Newsnight scandal, as Prime Minister David Cameron condemns the £1.3 million payout given to former director general George Entwistle.
Fran Unsworth, the former head of newsgathering at the BBC, has taken over as the head of BBC News, while Kerry Thomas, the editor of Today will be made deputy.
Robert Peston, BBC business editor, said Tim Davie, who stepped in as interim director general after George Entwistle resigned, and Lord Patten, head of the BBC Trust, decided BBC News "needs a new clear line of management control".
He wrote: "Mr Davie and Lord Patten are understood to believe that Ms Boaden's and Mr Mitchell's decision to withdraw from all decision-making on the way the BBC reports the Jimmy Savile scandal has created confusion at BBC News about who is in charge.
"There is likely to be widespread anger within BBC News at what will be seen as a pre-empting of the results of Nick Pollard's investigation into why Newsnight abandoned an investigation into Jimmy Savile's paedophile activities last December."
Peston said the decision to ask Boaden and Mitchell to stand aside was a result of the investigation of another "journalistic mistake", in which Newsnight alleged a senior Tory was involved in child abuse.
"However, neither Ms Boaden or Mr Mitchell were in the decision-making chain that led to Newsnight's broadcast," he said.
Ken MacQuarrie, director of BBC Scotland, said: "To address the lack of clarity around the editorial chain of command, a decision has been taken to re-establish a single management to deal with all output, Savile-related or otherwise.
"Helen Boaden has decided that she is not in a position to undertake this responsibility until the Pollard review has concluded. During this period Fran Unsworth will act as director of news. In line with this decision, Ceri Thomas will act on a temporary basis as deputy director in place of Stephen Mitchell.
"To address the pressure on the Newsnight team Karen O'Connor has agreed to take on the role of acting editor of Newsnight.
"Consideration is now being given to the extent to which individuals should be asked to account further for their actions and if appropriate, disciplinary action will be taken."
The BBC added in a statement: "The BBC wants to make it absolutely clear that neither Helen Boaden nor Stephen Mitchell had anything at all to do with the failed Newsnight investigation into Lord McAlpine.
"Whilst recognising this, the BBC also believes there is a lack of clarity in the lines of command and control in BBC News as a result of some of those caught up in the Pollard Review being unable to exercise their normal authority.
"In the circumstances Helen and Stephen will be stepping aside from their normal roles until the Pollard Review reports and they expect to then return to their positions."
Since Entwistle stepped down, the BBC has been heavily criticised by MPs over the £1.3 million payout he was given after his departure.
Entwistle, who was in the position for less than two months, will receive a full year's salary of £450,000 as well as an £877,000 pension pot.
This amounts to around £8,000 for every one of the 54 days he was director of the Corporation.
Under the terms of his contract, Entwistle was entitled to just six months' pay, but the BBC said additional payment had been agreed because he will continue to "help the BBC business".
Davie became acting director general and held his first meeting with the BBC Trust last night.
BBC Trust said in a statement: "The BBC reached a consensual termination agreement with George Entwistle [on Saturday] and agreed to pay him 12 months' pay, in lieu of notice.
"This reflects the fact that he will continue to help on BBC business, most specifically the two ongoing inquiries."
Criticism
A number of people criticised the payout, led by the prime minister. According to sources cited by the BBC, Cameron believes it is up to Entwistle and his "conscience" whether or not he takes the full payout.
A statement from 10 Downing Street described the payout as "hard to justify".
John Whittingdale, chairman of the Commons Culture, Media and Sport Committee, added that: "A lot of people will be very surprised that somebody who was in the job for such a short period of time and then had to leave in these circumstances should be walking away with £450,000 of licence fee payers' money.
"I find it very difficult to see a justification for that amount of money to be paid to somebody who has had to resign in these circumstances.
"I wouldn't have thought that just because you have to help an inquiry into the Savile allegations you necessarily need to be paid such a large amount of money."
Harriet Harman, shadow secretary of state for culture, media and sport, said: "It is not justifiable for the BBC to pay double the contractually required sum to the director-general on his resignation. It looks like a reward for failure."
Philip Davies MP suggested Entwistle's resignation was a ploy to save the chairman of the BBC Trust. He said: "This pay-off is totally unjustifiable, it's unacceptable, it's extraordinary and I suspect it's been done to save Lord Patten's bacon."
Meanwhile, the acting director general Davies sent an internal email to BBC staff , saying he is "determined to give the BBC the clarity and leadership it deserves in the next few weeks," promising "there will be no handbrake turn."