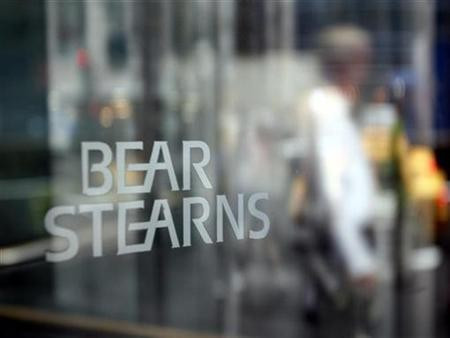 Incriminating e-mails between staff at the now-defunct investment Bear Stearns have been published by New York's attorney general, the latest in a series of e-mail scandals to hit the financial sector.
The e-mails were released as part of an ongoing lawsuit against JP Morgan, which bought the remains of Bear Stearns in 2008 and thus has assumed responsibility for the mortgage-backed securities which were previously sold by the bank.
Bear Stearns staff are accused of deceiving investors over the quality of the loans underpinning the securities, as well as contributing to the sub-prime mortgage crisis that triggered the global financial crash in 2007 and has blighted the global economy since.
In one e-mail, a Bear Stearns employee describes the company's securities products, which have attracted international condemnation in the wake of the financial crash, as a "sack of s**t" and a "s**t breather".
Another employee suggests the loans offered to investors amount to a "going out of business sale" and asks whether his colleague wants to "close this dog".
In a less colourful but no less damning exchange, an executive claims Bear Stearns knew that around 60 percent of the loans it was selling on to investors were more than 30 days delinquent.
Chain of shame
Just four months ago, British banking giant Barclays was hit by similar revelations after 'smoking gun' e-mails were made public.
During the Libor-rigging inquiry, which culminated in Barclays being hit with a £290m fine, regulators released a string of incriminating messages. One began: "As always, any help wd be greatly appreciated. What do you think you'll go for 3m?"
The recipient gave clear evidence of collusion, replying: "I am going 90 altho 91 is what I should be posting." When the original sender promised to "write a book about this business [and] your name will be written in golden letters," the correspondent replied: "I would prefer this [to] not be in any book!"
One employee promised a colleague "a bottle of Bollinger" in return for rate-fixing support, while another said "coffees will be coming your way, just to say thank you for your help in the past few weeks."
In 2007, as part of an early probe into subprime mortgages, US regulator the Securities and Exchange Commission published an e-mail from Goldman Sachs trade Fabrice Tourre, which read:
"...the entire system is about to crumble any moment...the only potential survivor the fabulous Fab...standing in the middle of all these complex, highly levered, exotic trades he created without necessarily understanding all the implications of those monstrosities!!!"
Goldman eventually settled for $550m (£354.6) with its defrauded investors.
Perhaps the most high-ranking victim of e-mail exposes has been Henry Blodget, a former managing director and senior Merrill Lynch analyst. Blodget was exposed as putting out positive public research reports on web companies despite holding critical views on them in private.
Of the company Excite@Home (ATHM), Merrill published a rating suggesting investors buy and accumulate its shares. The accompanying report read that Merrill's analysts "do not see much more downside to the shares."
"ATHM is such a piece of crap!" said a private email from Blodget.
Lifeminders (LFMN), another business, was given a similar rating to ATHM. A research report claimed LFMN presented "an attractive investment".
Privately Blodget thought otherwise.
"I can't believe what a POS [piece of s**t] that thing is," he wrote in an email.
After an investigation by US regulators, Blodget was banned for life from the securities sector.