Behind The Smile: How it feels when depression consumes you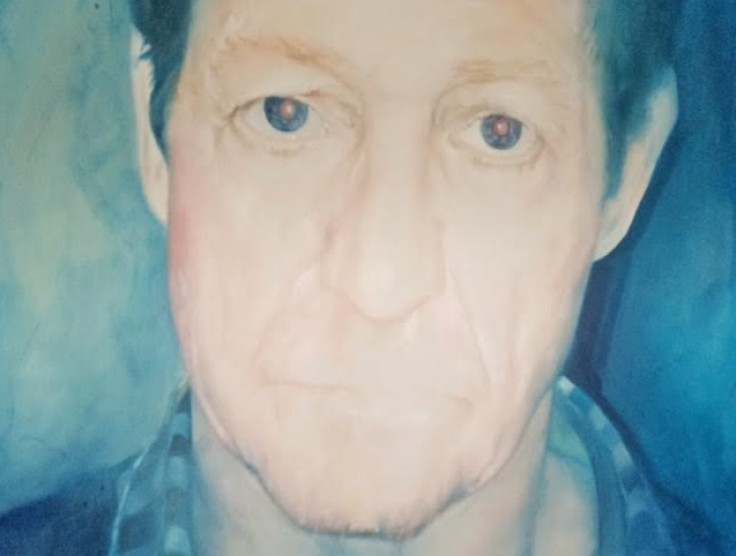 Depression is not only in the mind, but also in your bones. It's all-consuming.
It all started in 2008. £120,000 mortgage, a secret £30,000 credit card debt, and the family-run business was on the brink of collapse. No wages for six weeks, letters from bailiffs, and a family to support. I slumped into a very dark and lonely place.
Sleep at night never came, only constant thoughts of losing everything I had worked for. After being prescribed antidepressants by my doctor, I thought I could help escape the darkness that had surrounded me with illegal drugs.
I'd lost control. All of a sudden I found myself on a cocktail of antidepressants, sleeping pills, anti-psychotic drug Olanzapine and illegal drugs. Anything to help me reach the light.
The voices soon came. Then took over. What started as depression rapidly led to paranoid schizophrenia, a drug- induced psychosis. I'd created my own world that I thought was reality.
I felt haunted, possessed. As well as depression, the overwhelming paranoia pushed me away from my family as the voices in my head became more real every day. At one time it was God on my left shoulder. Another time it was my Nan who had passed away years before. I even had a six-hour conversation with two young boys living in my bed. They would threaten me, but when I answered back they would become like small frightened rabbits. It was a horrible experience, one at the time I believed to be real. I would walk everywhere with a dictaphone recording every little voice I heard, playing the white noise recording to people in the hope they could hear them too.
I remember sitting down with my three-year-old son and bursting into uncontrollable tears. He is 11 now and has no memory of it, but for me it is a memory I carry with me to this day. Depression let me watch my life fall apart around me, and I was powerless to stop it. What's more, I didn't care.
Things got worse. But finally I had to come clean on my self-medicating, and decided to get help. The mental health charity Mind helped my parents understand in a way that I couldn't explain. By this point I was awake all night, and would spend all day listening to my recordings, looking for proof the voices were there. Soon after a rather embarrassing incident with the recordings I was admitted to hospital. I remember it was the Thursday before Good Friday 2009. Easter will always make me sit back and reflect on that day.
Soon after leaving hospital my marriage started to break down. I had hit rock bottom, and sadly I had no choice but to start again on my own. I moved into a derelict caravan in an industrial unit. Then in 2012, after regular counselling, coming out of my darkest time and clean from self-medicating, I began painting a series of self-portraits showing people what was going on underneath the false smiles.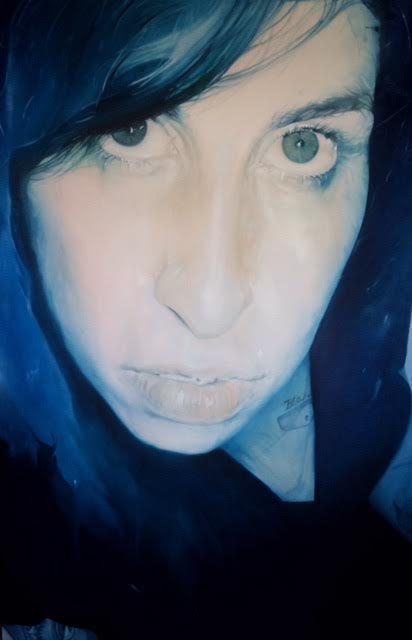 They say a picture paints 1000 words. That is very true, and it's what works for me. What started as self-therapy has become a mission to spread the word that we are not mad or insane, we shouldn't be treated any different from 'Normal People' just because we have a mental health problem.
I can now talk about how I feel. I can now say 'I don't feel too good today' with no shame. I now know when it's coming and I can deal with it in a way that works for me. I can get rid of it with an aggressive brush stroke and stand back from the canvas. Something borne from paranoia can be left as a brushstroke stuck in a moment in time.
In 2012 I showed the paintings at a group exhibition in Brick Lane, where I was approached by a psychiatrist. We talked about the power of art as a therapy, and how it can send a message and understanding, better sometimes than just words alone. This brings me to where I am today. Wanting to give something back, to those who helped me.
I asked people to describe how they felt when they were depressed, then took a picture, and painted them from the image. A trust was built around the portraits. Some were more open than others, and for others it was enough for them to know I can recognise the same thoughts and feelings. I didn't need to know full details, just talking about mental health problems in general was enough to take some people back to darker times, and give me the portrait I was looking for.
As the artist I feel it's enough to have been through something so dark, and come out the other side. Others aren't so lucky, they become so alone in the darkness they can't see the light.
For those I have painted who are in the public eye, they simply can't afford to let the dark times show. That is why I titled the exhibition: 'Behind The Smile'. I believe if you are in the public eye and suffer from depression your battle is 10 times harder, as the 'normal' persona needs to be more evident. As a sufferer I could walk down the street and not one person would take any notice...but on one occasion I was told to 'smile, it hasn't happened yet', by a woman walking her dog. 'Believe me,' I said, 'It already has'. She carried on her walk without giving me a second thought. That wouldn't happen with someone in the public eye. Their daily activities are there for us all to see.
I'm no longer ashamed to suffer from paranoia and depression. The voice on my left shoulder is simply a noise I choose to ignore. I no longer consider myself mad.
If you or someone you know is suffering from depression, please contact a free support service at Mind.org.uk or call 0300 123 3393. Call charges apply.
---
Toby Brown is an artist. His latest exhibition: Behind The Smile will donate 20% of profits to Mind
---
© Copyright IBTimes 2023. All rights reserved.