Four years ago I spent two weeks at the Manor School in Cambridge helping pupils produce and perform a piece of creative writing which expressed who they were and what their life was like. The Manor is in one of Cambridge's few underprivileged pockets, and many of the children there come from difficult backgrounds. The cab driver even refused to drop me off directly outside because he thought he'd get his hubcaps stolen.
That's precisely why the Duke and Duchess of Cambridge had chosen to visit the school on their tour of the city in 2012. It might have been more pleasant, certainly more comfortable for them to have spent their much in-demand time in one of the area's many affluent independent institutions but, Katherine in particular, I was told, was adamant she wanted to visit The Manor.
I was called in not only to help the children prepare their performance, which would be watched by the Duke and Duchess, but to boost their confidence in the run up to the event. It was an emotional time. Many of the Manor School's pupils are wonderful, but desperately lacking in self-worth. They approached each task with huge amounts of enthusiasm but there was an underlying sense of intense vulnerability. I grew incredibly attached to the young people I worked with over that fortnight. I loved how brave they were and how transformative they seemed to find the act of finding their voice through performance and the praise I lavished upon them as a result.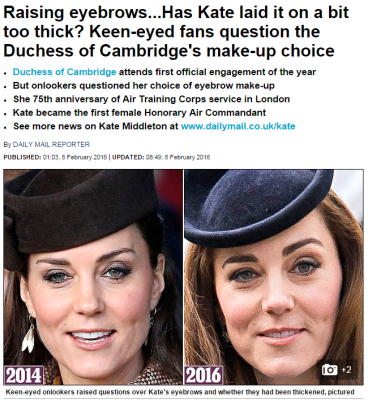 I chatted to Prince William that day and he told me he and Katherine had made it their mission to help young people with mental health issues, which explains why they are patrons of the charity Place2Be. Later, during the performance, a 16-year-old student spontaneously announced that she was gay, whilst flicking a double 'rock' sign at our country's new generation of royalty. It was quite something to behold.
Every single major news outlet was there to witness the event and nearly every one reported...that Katherine had a new fringe. I was beyond indignant, not only on behalf of the children who had worked so hard but on behalf of the Duchess herself, who had expressed a specific interest in visiting these children.
Fast forward to 2016 and the press are at it again. It's Children's Mental Health week and to kick it off the Duchess made a hugely important speech about the importance of giving young people the tools they need to face life's challenges.
Place2Be is one of the few charities specifically working in the primary sector, acknowledging that mental health is something to be nurtured from infancy, not acknowledged only when issues arise. Katherine's message was a crucial one, delivered by a woman powerful enough to command the collective ear of the masses.
So why any news outlet should choose instead to focus on the fact that the Duchess' eyebrows appeared slightly thicker this week than usual and that (shock, horror!) one eyebrow was a different shape than the other is anyone's guess.
Which is why I'm choosing instead to focus on our responsibility as consumers. The Mail Online's 'Sidebar of Shame', is acknowledged to be one of the most clicked-upon entities in the known internet. Yet every time we chose to read about a woman's makeup, fashion choices or cellulite instead of what she has to say, we encourage more articles to be written in that vein and ultimately deprive her of her voice.
In Katherine's case it was not just her who was silenced, but the millions of children throughout the UK who desperately need help with their mental health.
---
Natasha Devon MBE is a writer, mental health campaigner and founder of the multi award-winning Self Esteem Team
---