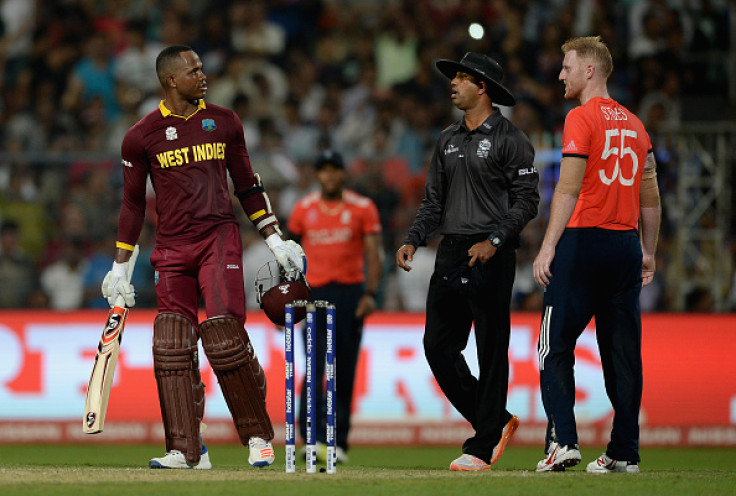 England all-rounder Ben Stokes has hit out at West Indies player Marlon Samuels, claiming that the batsman lacks respect. The duo have clashed on the field various times over the years, the most recent face-off coming in the 2016 ICC T20 World Cup held in India.
Samuels, who scored a match-winning unbeaten 85 off 66 balls against England in the final of the T20 World Cup, was engaged in a tiff with Stokes post the win, abusing him for which he was fined 30% of his match fee by the International Cricket Council (ICC).
"Marlon Samuels lacks respect. You get that if you have spent any time with him on a cricket field. Marlon's conduct after West Indies' victory over us in this year's World Twenty20 final showed a total disrespect for the game. Without removing his batting pads, Marlon walked into a press conference, sat down and placed his feet on the desk. Totally lacking manners," Stokes writes in his autobiography Firestarter: Me, Cricket and The Heat of the Moment.
"It didn't require him to give me a character assassination — bizarrely claiming I am some sort of 'nervous laddie' —to help me form the opinion that I do not like him one bit. I believe in the saying 'respect the game'. I don't think he respects the game. Yes, he played an unbelievable innings but, because of our personal history, it stops me short of saying he's a good player. Team players are the good players in my eyes."
Samuels had the last laugh in their personal battle, with West Indies winning the title in what was an exciting last-over finish. Stokes, who was asked to bowl the last over, gave away 19 runs with Carlos Brathwaite hitting four sixes to take the Caribbeans to their second ICC World T20 title.