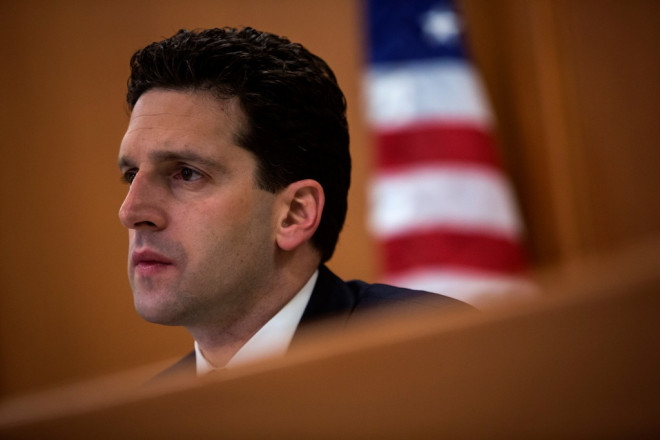 New York's top bank regulator Benjamin Lawsky has said he could use name and shame tactics to clean up the banking sector, adding that he plans to name at least one BNP Paribas banker.
Lawsky, the head of New York's Department of Financial Services, intends to name bankers to deter wrongdoing since extracting fines from large firms -- which are ultimately paid for by shareholders – has failed to stop misconduct.
Lawsky said he was planning to name at least one BNP Paribas individual, though the terms of the settlement could still change. BNP, France's largest listed bank, is reportedly negotiating to settle a US probe over laundering funds from countries facing American sanctions, including Iran.
"If it's not money laundering, it's tax evasion, if it's not tax evasion, it's forex manipulation. It's one thing after another. It makes us wonder, as regulators, what are we doing wrong?" Lawsky said.
Lawsky has civil enforcement powers over banks and insurance companies licensed in New York. Any decision to charge individuals would be up to US Attorney Preet Bharara and Cyrus Vance, the Manhattan District Attorney, who are also involved in the settlement negotiations.
In addition to Lawsky, Bharara, and Vance, the US Federal Reserve and the US Treasury Department's Office of Foreign Assets Control (OFAC) are also part of the settlement discussions, an unnamed source told Bloomberg.
Spokespeople for Bharara and Vance refused to comment on whether settlement discussions were underway with BNP or whether individuals would be charged.
Pursued by the news agency, spokespersons for the Fed, BNP and OFAC refused to comment.
"It's easy to settle with corporations. If you don't do something about individual conduct, you're proceeding down the same path. It happens again and again and again," Lawsky told Bloomberg.
"You want to be very clear up front about what they did wrong and that there are real consequences."
"And it will affect their careers going forward," Lawsky added.
Earlier, reports said US authorities were probing three French banks -- Societe Generale, BNP Paribas and Credit Agricole -- for alleged misappropriation and violating American sanctions against other countries.
In February, BNP said it had put aside $1.1bn (£662m, €792m) to cover probable penalties for transactions in countries under US sanctions. The provision was booked in addition to the bank's existing legal provision of €1.68bn as of 31 December, 2013.
In a December 2013 settlement with Royal Bank of Scotland, Lawsky identified two RBS bankers by job description but did not reveal their names.
In 2012, Lawsky took on Standard Chartered for laundering cash from sanctioned countries and won. Standard Chartered agreed to pay $340m in penalty fines for concealing transactions with Iran worth at least $250bn.