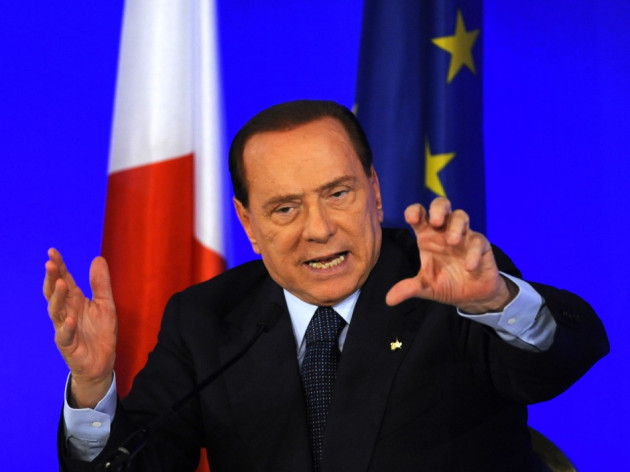 17:47pmThat's it for today. We will start live blogging again from tomorrow morning at 0900 GMT.
17:30pm Final round-up
- Silvio Berlusconi is in a meeting with Italian president Giorgio Napolitano to discuss Tuesday's loss of majority in the parliament. According to the latest reports, he is not going to resign.
- Berlusconi loses majority as Italy budget vote passed with 308 votes out of 360. Only 308 MPs voted for the budget, far below the 316 needed for an absolute majority.
- Opposition parties immediately called on Berlusconi to step down to calm the bond markets

17:16pm In the meanwhile, The Guardian reports that the Italian government debt continues to suffer in the confusion following this afternoon's vote:
The yield on 10-year Italian debt just hit a new euro-era high of 6.767%. As well as being close to the 7% red-alert point (where Ireland, for one, found it couldn't borrow from the markets), that also pushes the gap between Italian and German debt to dangerous levels.
17:00pm BREAKING: Berlusconi is heading to Quirinale, the Italian president building. Sources quoted by SkyTg24: no resignation
16:56pm Italian TV is reporting that Silvio Berlusconi may meet with President Giorgio Napolitano at 5.45pm

16:50pm Berlusconi reportedly got into the chamber clutching a note with his various options scribbled down, according to Corriere della Sera. "A confidence vote? I quit? A technical government? Re-election?". Each option was followed by a list of positives and negatives.
16:43pm According to Marco Bardazzo, managing editor at La Stampa, Silvio Berlusconi will not resign. He tweets: "Possible outcome of Italian drama: #Berlusconi meets Italian president, tells him he'll ask confidence vote on European plan. No resignation"
16:34pm Economist Nouriel Roubini is having an argument with an Italian journalist on Twitter, calling him and his colleagues "political hacks". @nouriel v @borghi_claudio
16:31pm Former Culture Minister Sandro Bondi, of Mr Berlusconi's Freedom Party, says that fresh elections would be the best outcome. "Both the opposition and the majority should choose the route of early elections," he says, according to Italian media reports.
16:30pm One MP who was supposed to vote for Berlusconi missed the opportunity because he was in the restroom. Another one is under house arrest
16:21pm Spread BTP/Bund reaches maximum level since Euro introduction at 496bps
16:17pm A billboard showing the results during a finance vote at the parliament in Rome.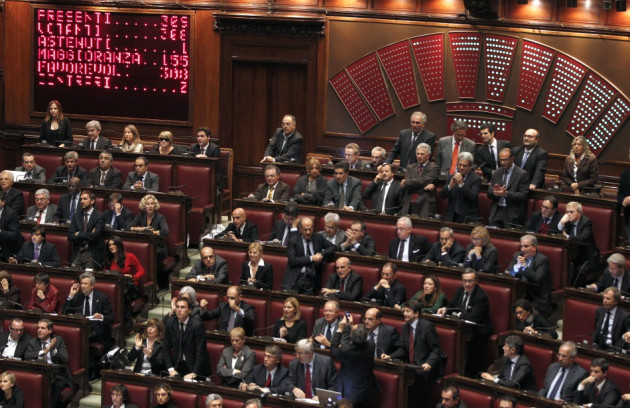 16:14pm "I feel betrayed," Berlusconi said when he saw the list of the 11 MPs who voted against him, Italian TV reports.He is reported to have immediately asked to see the tables to see exactly who had voted against him.
16:04pm Italian Prime Minister Berlusconi looks on next Justice Minister Maroni and League North Party leader Bossi during a finance vote at the parliament in Rome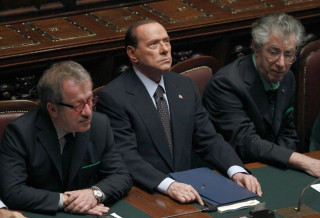 16:02pm Here is a video of the vote by La Repubblica newspaper:
16.00pm Everyone is watching for Berlusconi's car to understand future of Italy. If it moves toward the Italian President building, Berlusconi could go to resign
15:56pm Following the vote, Mr Berlusconi went into crisis talks with some of his most senior ministers, including the interior minister, Roberto Maroni, the economy minister, Giulio Tremonti and Umberto Bossi, the leader of the Northern League, who had earlier called for the prime minister to step aside.
15:52pm Berlusconi will likely visit Italy's head of state Giorgio Napolitano in the next few hours, his spokesman says.
15:49pm We rely again on Marco Bardazzo, managing editor at La Stampa, to explain what happens next. He tweets:
"Italy: It was tecnically a budget vote, it was basically a confidence vote on #Berlusconi. Formally, he won. In reality he lost his majority"
15:43pm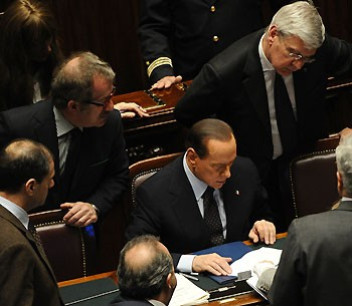 15:40pm Berlusconi will decide what to do shortly according to Alberto Nardelli, Entrepreneur, co-founder of @tweetminster
15:34pm However, Italian 10-yr yields still going higher post Berlusconi vote: 6.675% and rising
15:29pm If you are wondering how are the markets reacting to Italy's latest developments, here is a tweet by Marco Bardazzi, Managing Editor at La Stampa newspaper: "Italian stock exchange keeps going up after Parliament vote on #Berlusconi. Markets are betting on prime minister to quit. #Italy"
15:27pm Marco Castelnuovo, journalist for daily newspaper La Stampa tweets: "Only 308 votes (Majority is 316). Now there are Three way for #Berlusconi: resignation, call for a new PM, confidence vote."
15:21pm Silvio Berlusconi wins critical vote after opposition abstains, but lacks full majority in the parliament. Opposition asked him to resign or a no-confidence motion will be called
15:19pm Pier Luigi Bersani, secretary leader of the Democratic Party, addressed the chamber after the vote and made a personal appeal to Silvio Berlusconi to stand down: "I ask that, now, you finally accept this situation, hand in your resignation and allow the president to find a solution that will allow our great country to go forward. We will do our part."
15:15pm THE BILL HAS PASSED WITH 308 VOTES BUT BERLUSCONI HAS LOST THE MAJORITY IN THE PARLIAMENT
15:14pm Shares in Berlusconi's Mediaset have lost 1.6% but the overall value of stocks listed on Milan blue-chip FTSE MIB index is up 2.5%.
15:12pm Berlusconi has arrived at the lower chamber
15:10pm In response to Mr Franceschini's comments, Fabrizio Cicchitto, of Berlusconi's People of Freedom party has accused the left of polemisizing the issues the country faces in an irresponsible way. "This is personalising a question that cannot be personalised, it is affecting the whole world," he said.
15:07pm "Italy has serious difficulties with a spread of 500 basis points. We can't go forward
for a long time like this.
On the financial market that means our banking system finds it harder to operate. It's absolutely fundamental politicians do their job," Emma Marcegaglia, head of Confindustria, the equivalent of Britain's CBI told reporters on Monday.
15:04pm "With his acts, Berlusconi is condemning Italy to a long-time agony," said Angelo Bonelli, head of the Green Italian party on Tuesday morning.
14:57pm Marco Bardazzi, Managing Editor at La Stampa newspaper, tweets: "It looks like the entire world is waiting for big news from Rome this evening. Parliament is ready to vote, future of #Berlusconi at stake"
14:54pm Dario Franceschini, leader of the main opposition party, the Democratic Party (PD) said: "If Berlusconi has the numbers to carry on, then he has to prove it today."
14:52pm Alberto Nardelli, Entrepreneur, co-founder of @tweetminster
tweets: #Italy's biggest challenge is every party wants a different solution/leader post-Berlusconi. This is also why B. kept winning elections.
14:49pm Pier Ferdinando Casini, leader of the centrist party UDC said: "Let's stop this arm wrestling on the shoulders of our country"

14:47pm A debate has just started among lawmakers in the Italian parliament ahead of a vote on the budget.
14:45pm The main opposition party, the Democratic Party (PD), will abstain in Tuesday's vote. "Our message to Berlusconi's government is: count your own votes," said Pier Luigi Bersani, PD's secretary