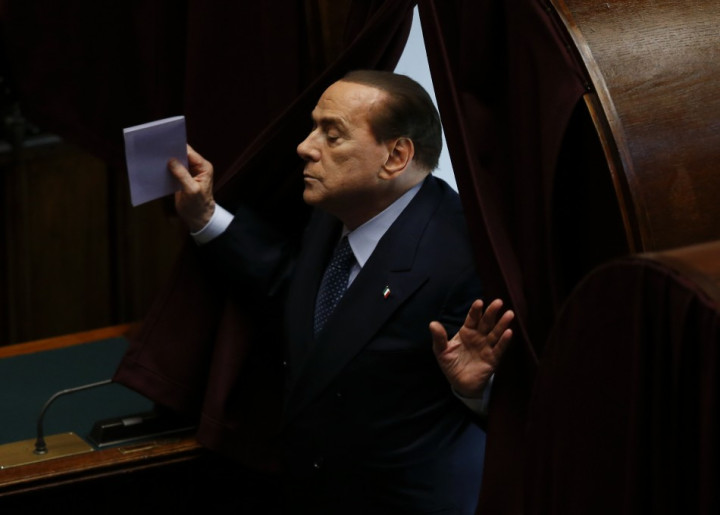 Silvio Berlusconi's PDL party has called for a demonstration in defence of its leader, who has been convicted of tax fraud by an appeals court.
The former Prime Minister is to lead a rally in the northern city of Brescia to protest against a verdict that could finally force him out of the Italian parliament after 20 years.
Milan judges yesterday upheld a four-year jail sentence and five-year ban from public office handed to Berlusconi by an Italian court in October.
The case revolves around alleged fiscal irregularities worth several million euros in the tax affairs of Berlusconi's media company Mediaset in the 1990s and early 2000s.
The sentence was described as "political" and "disgusting" by PDL's Chamber of Deputies whip Renato Brunetta.
"We knew it would go like this," Berlusconi's lawyer and PDL MP Niccolo Ghedini added.
Berlusconi's lawyers are expected to appeal the case to the nation's highest Court of Cassation.
The move would prevent the verdict from being implemented until the third ruling is conferred, as in Italy defendants are legally considered innocent until all appeals are exhausted.
Even if the Court of Cassation confirms the verdict, there is no real prospect of Berlusconi being jailed. Three of the four years he is due to serve were pardoned by a 2006 amnesty and Italian law stipulates that culprits over 70 years of age should receive suspended sentences. Berlusconi is 76.
Nevertheless the sentence represents a major blow to Berlusconi's political future. If it is confirmed, the five-year ban from public office will force him to leave his parliamentary seat.
Berlusconi's PDL has recently formed a coalition government with the centre-left Democratic Party. Although Berlusconi holds no governmental posts, he remains leader of his party.
Former comedian Beppe Grillo's Five Stars Movement is already pressing to apply the judicial ban on public office immediately.
Gennario Migliore, Chamber of Deputies coordinator for the opposition leftist Sel Party, has called for Berlusconi to resign.
Moreover the ruling has come days before prosecutors wrap up closing arguments in the mogul's sensational Bunga Bunga trial.
Milan judges are expected to pass a verdict over Berlusconi's underage prostitution and corruption charges within the next two weeks.