Bermuda's Cleveland County Club bans cricketer Jason Anderson for life after on-field brawl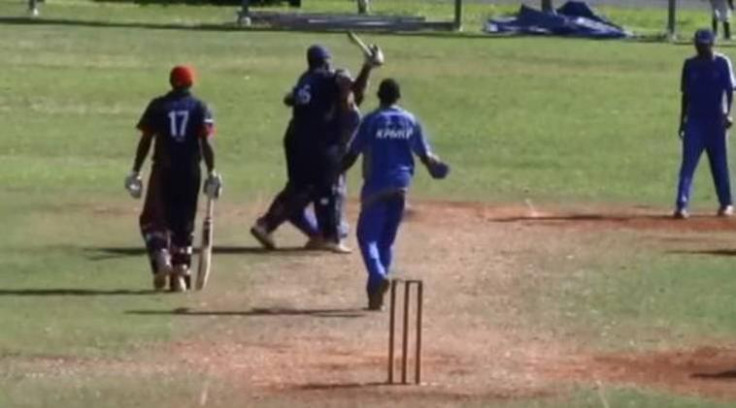 In an unprecedented incident on the field, Bermuda's Cleveland County Cricket Club wicketkeeper Jason Anderson has been sentenced to a ban for life after he sparked a brawl on the pitch with Willow Cuts batsman George O'Brien. Anderson instigated the incident after hitting O'Brien following which the batsman swung his bat at the keeper.
Both players started serving blows and had to be separated by players, officials and members of the Bermuda police. While Anderson has been handed a life-long ban, O'Brien has also suffered a lengthy suspension for his antics on the field.
Carlton Smith, president of the Cleveland Cricket Association, ran into the field to diffuse the incident and was seen berating Anderson for his role in the brawl. The ban comes only a week after Anderson was adjudged the Logic Premier Division Player of the Week for his brilliant performance against the Flats, where he scored a century.
"Cleveland County Cricket Club would like to announce that as a result of the incident at the recent Champion of Champions final, Mr Jason Anderson is hereby banned from representing the club in all sporting activities for life," Smith said, according to the Royal Gazette.
"The executive and members of CCCC do not condone the behaviour of Mr Anderson. We view these matters seriously and as a community club this is not the type of behaviour that we expect from members of the club, nor the example that we would like to set for our junior players," he added.
Furthermore, Smith also issued a statement apologising for Anderson's behaviour and revealed that the club will provide any assistance to the player for his anger issues and take steps to make sure that such events do not happen in the future.
"The Club would like to thank Mr Anderson for his contributions to the success the club has experienced over the last few years as he has been an integral part of that success," Smith continued.
"We urge Mr Anderson to seek assistance for his anger issues and the club is willing to help him with these efforts, if he is willing.
"We would like to apologise to the general public for the scenes witnessed during the Champion of Champions final, as this is not the image that Cleveland County Cricket Club wish to portray."
© Copyright IBTimes 2023. All rights reserved.