Beyoncé may be one of the most loved stars on the planet but after her thrusting the Black Lives Matter movement into the living rooms of millions of Americans and others worldwide at the Super Bowl 50 half-time show, she has earned herself new enemies.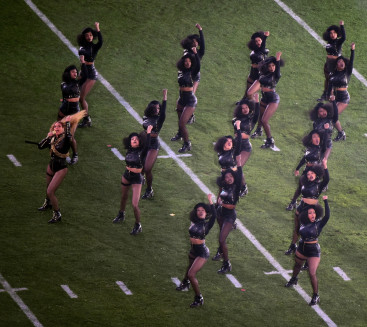 Bey provoked outrage when she joined Coldplay on-stage to perform politically charged new single Formation. The show saw the singer and her backing dancers making the Black Power raised fist and holding a placard stating 'Justice 4 Mario Woods', relating to the black man shot dead by police in San Francisco.
In the wake of the controversial segment, which inevitably overshadowed Coldplay's headline gig, an 'anti-Beyhive' rally has been planned. Organisers are set to protest against the mother-of-one outside the NFL Headquarters in Manhattan from 8am to 4pm local time on 16 February, the same day that tickets for her Formation world tour go on sale.
"Are you offended as an American that Beyoncé pulled her race-baiting stunt at the Superbowl?" reads the Eventbrite page. "Do you agree that it was a slap in the face to law enforcement? Do you agree that the Black Panthers was/is a hate group which should not be glorified? Come and let's stand together. Let's tell the NFL we don't want hate speech & racism at the Superbowl ever again!"
Organisers of the protest are not the first to brand Beyoncé's performance as racist or anti-police for addressing beauty standards, black history and police brutality. Former mayor of New York City Rudy Giuliani slammed the routine as "outrageous" for inserting politics into the NFL. "This is football, not Hollywood, and I thought it was really outrageous that she used it as a platform to attack police officers who are the people who protect her and protect us, and keep us alive," he said.
The accompanying video, which champions resistance and strength in the black community, was partly filmed in New Orleans. It shows imagery of the damage the city suffered following Hurricane Katrina in 2005 and also makes references to Black Lives Matter — the movement thatBeyoncé and husband Jay Z are vocal supporters of. It also shows images of civil rights icon Martin Luther King and a boy dancing in the street in front of a line of armed police.