Biden Likens Hamas To Putin In Controversial Speech And Believes the IDF Weren't Behind Airstrike
Following his visit to Israel, Biden addressed the US in a rare Oval Office speech, in which he dubbed Hamas as "terrorists" and likened its aspirations to Putin.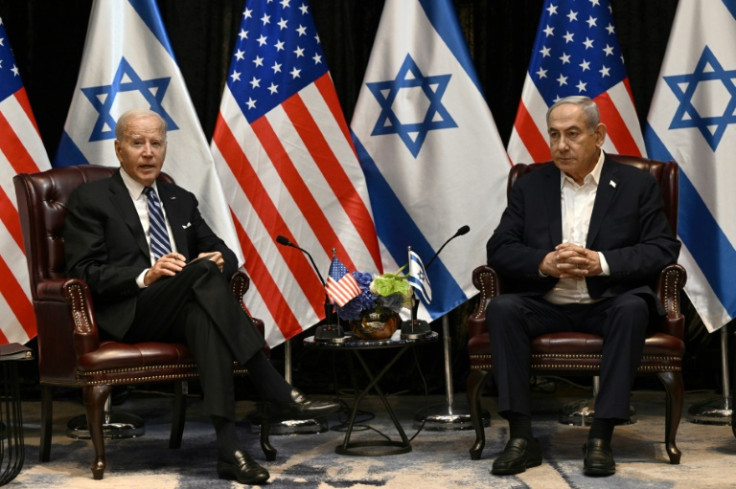 After returning from a visit to Israel, where he spoke to Israeli Prime Minister Benjamin Netanyahu, US President Joe Biden addressed his nation in a rare Oval Office speech.
While speaking to the right-wing prime minister in Tel Aviv, Biden reassured Israel that the US believes that the IDF were not behind the airstrike that reportedly killed 500 people inside the Al-Ahli Arab Hospital in Gaza City.
Due to the US State Department viewing certified data that pointed to the airstrike being a misfire from a local source in Gaza, Biden told Netanyahu: "Based on what I've seen, it appears as though it was done by the other team, not you [Israel]."
Biden's visit to Israel marked the first time a US President has visited Israel during a conflict.
Since Israel formally declared war on Gaza, on Saturday 7 October, UK Prime Minister Rishi Sunak has also met with both Netanyahu and Palestine President Mahmoud Abbas to discuss a possible de-escalation plan.
Having returned to the US, Biden appeared live on air to reveal all about the outcome of his Israel visit.
Addressing his "fellow Americans", Biden warned: "We're facing an inflexion point in history — one of those moments where the decisions we make today are going to determine the future for decades to come."
Opening his Oval Office speech, the president also announced that he was the " first American president to travel there during a war" and told his followers that he "met with Israelis who had personally lived through horrific horror of the attack by Hamas on the 7th of October".
"More than 1,300 people slaughtered in Israel, including at least 32 American citizens. Scores of innocents — from infants to elderly grandparents, Israelis, Americans — taken hostage", Biden reiterated.
Throughout his speech, Biden confidently referred to Hamas as a "terrorist group" and promised that he is "pursuing every avenue" to bring American hostages back to the US.
"Hamas unleashed pure, unadulterated evil in the world", Biden said, going on to note that "there is no limit to the depravity of people when they want to inflict pain on others".
Despite reports saying that Palestinian President Abbas cancelled the meeting between himself and Biden, Biden told his Democratic followers that he also met with the Palestinian President to strengthen their relationship.
While speaking with Abbas, Biden "reiterated that the United States remains committed to the Palestinian people's right to dignity and to self-determination".
Since the Israel-Gaza conflict escalated, reports note that the US has repeatedly called on Egypt to open the Rafah crossing to civilians.
Recognising the Gaza Strip becoming a death trap for Palestinians who are unable to flee through the Rafah crossing, Biden added that he was "heartbroken by the tragic loss of Palestinian life, including the explosion at a hospital in Gaza".
The air strike that shook the Al-Ahli Arab Hospital, "was not done by the Israelis", Biden declared.
"We can't ignore the humanity of innocent Palestinians who only want to live in peace and have an opportunity."
Nearing the end of his Oval Office speech, which was expected to generate more than 27 million viewers, Biden remembered the ongoing Russia-Ukraine war.
While referencing "the mass graves, the bodies found bearing signs of torture, rape used as a weapon by the Russians, and thousands and thousands of Ukrainian children forcibly taken into Russia, stolen from their parents", the president likened the aspirations of both Putin and Hamas.
"They both want to completely annihilate a neighbouring democracy — completely annihilate it... its stated purpose for existing is the destruction of the State of Israel and the murder of Jewish people," he said.
According to Biden: "Hamas uses Palestinian civilians as human shields, and innocent Palestinian families are suffering greatly because of them."
Like Hamas, Biden recognised that "Putin denies Ukraine has or ever had real statehood".
Biden continued to reassure his followers that the "American alliances is what holds the world together", and the US is working to "build a better future for the Middle East".
The president later revealed that as long as Hamas does not divert or steal shipments of aid, he has "secured an agreement for the first shipment" of UN humanitarian aid into Gaza -costing the US $100 million.
Biden also announced that as of tomorrow, Saturday 21 October, the US has funded a "security package" to assist with the military in both Ukraine and Israel.
© Copyright IBTimes 2023. All rights reserved.