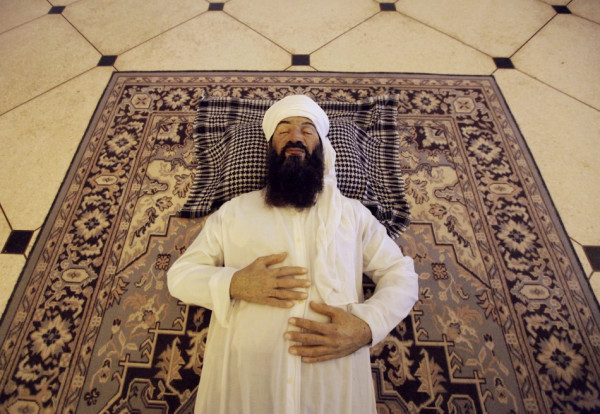 The burial of Osama bin Laden in May 2011 followed traditional Islamic procedures, even though the former al-Qaida leader was buried at sea.
Internal e-mails obtained by AP reveal that the mission to bury bin Laden, following his death at the hands of US Navy Seals in the Pakistan town of Abbottabad, was surrounded by secrecy, with only a handful of naval officers informed of the procedure.
Bin Laden's body was washed, wrapped in a white sheet and then placed in a weighted bag, before being carefully lowered into the North Arabian Sea.
"Traditional procedures for Islamic burial were followed," reads an email by officer Charles Gaouette, then deputy commander of the Navy's Fifth Fleet. "The deceased's body was washed (ablution) then placed in a white sheet. The body was placed in a weighted bag. A military officer read prepared religious remarks, which were translated into Arabic by a native speaker.
"After the words were complete, the body was placed on a prepared flat board [and] tipped up, whereupon the deceased's body slid into the sea.
"The paucity of documentary evidence in our possession is a reflection of the emphasis placed on operational security during the execution of this phase of the operation."
An email communication prior to the burial, between Rear Adm. Charles Gaouette, then the deputy commander of the Navy's Fifth Fleet, and another officer, showed the extremely secretive nature of the operation.
"Any news on the package for us?" Gaouette asked Rear Adm. Samuel Perez, commander of the carrier strike group that included the Vinson, "package" referring to bin Laden's body that SEALS were transferring to the ship for the sea burial via helicopters.
"FEDEX delivered the package," Perez responded. "Both trucks are safely enroute home base."
Earlier this year, AP's attempts to obtain secret information about the mission were dismissed by the Defense Department. In March, officials said they could not locate any photographs or video taken during the raid or showing bin Laden's body, or find any death certificate, autopsy report or results of DNA identification tests for the al-Qaida leader.