From bitcoin and litecoin to dogecoin, heavy losses are being felt across the crypto-currency landscape, with all but one of the top 60 coins registering losses.
Bitcoin fell by almost 11% in 24 hours between 27 and 28 January - a drop partly blamed on the arrest of BitInstant currency exchange CEO and Bitcoin Foundation vice president Charlie Shrem.
But some currencies suffered even greater losses; litecoin fell more than 12%, dogecoin fell 14% and lesser-known infinitecoin saw its value fall by more than 25%. Only vertcoin, which is worth $0.36 per coin, saw growth, up nearly 13%.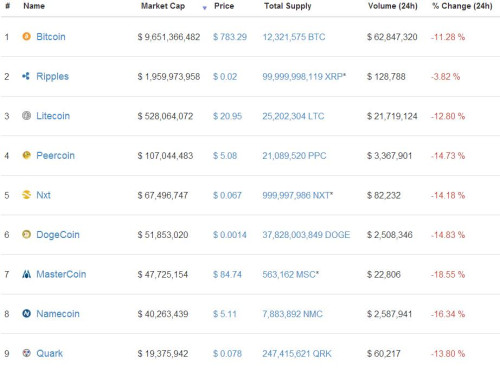 Fedora suffered the heaviest 24-hour loss, tumbling almost 45%, while the world's most valuable crypto-coin, 42 Coin, fell by 16% to $258,486 per coin. This currency is an anomaly however, as only one coin exists of a total of 42 which can ever be mined.
Tom Robinson of London-based bitcoin storage company Eliptic told IBTimes UK he believes Shrem's arrest is mainly to blame for the fall in value.
24-year-old Shrem was arrested at JFK airport on 26 January and charged with money laundering and using bitcoin to buy drugs on the now-defunct Silk Road website
Chinese bitcoin ban coming 31 January
But the losses are also believed to stem from a ban imposed by the People's Bank of China prohibiting banks and payment processing companies from dealing with bitcoin. Initial reports of the ban in December drove the value of bitcoin down by almost 50%, and despite the currency recovering, further falls are expected when the ban comes into effect on 31 January.
Preventing payment processing companies from dealing in bitcoin will make operating a Chinese exchange for the currency almost impossible.
Explaining why bad news for bitcoin can force other currencies down, Robinson, who recently organised London's first Satoshi Square event for bitcoin enthusiasts, said: "There are very strong correlations between all the crypto-currency prices. Any kind of regulatory action is likely to affect them all, rather than being specific to bitcoin."
Robinson went on to say he thinks this will be "a short -term dip...an isolated event that has no bearing on the value of bitcoin as a technology."
A more diligent future
Looking beyond Shrem's arrest, Robinson expects the incident to end up having a positive impact on bitcoin, "with digital currency businesses being even more diligent about their anti-money laundering practices."
Further uncertainty was brought on this week by a statement from the Bank of Russia, which took a similar stance to many other central banks, declaring bitcoin trading a "high risk" activity. The bank went on to warn citizens and businesses, especially financial institutions, about the risks associated with using crypto-currencies.
The widespread losses also come as New York's financial regulator begins a two-day hearing to discuss the future of bitcoin and crypto-currencies as a whole. The Department of Financial Services describes the hearings as a fact-finding mission, and will call upon high-profile bitcoin investors such as Cameron and Tyler Winklevoss, as well as representatives from the financial, legal, government and academic sectors to present their thoughts on bitcoin.
Called 'The rise and risks associated with increasing bitcoin usage,' the hearing will begin at 11:30am EST on 28 January.