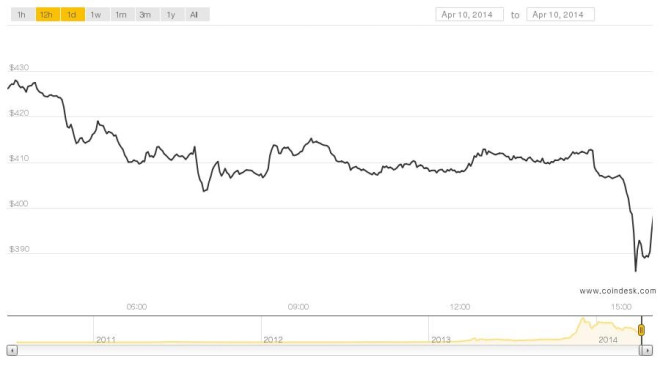 The price of bitcoin has fallen to its lowest value in five months as uncertainty surrounding the cryptocurrency's future in China continues.
According to the CoinDesk Bitcoin Price Index, bitcoin's value fell to as low as $385.32 (£229.40) on Thursday, a 15% drop in just 24 hours.
This is the lowest the cryptocurrency has been valued at since last November. The drop has been mirrored across almost all major cryptocurrencies, causing a market-wide crash.
News earlier today that bitcoin exchanges in China had announced the suspension of bank transfers from customers seems to have driven the slump in price, with BTCTrade and BTC100 both issuing notices to customers confirming shutdown notices issued by the Chinese government.
The news from BTCTrade and BTC100 falls in line with last month's statement from the Chinese government that all banks in the country will be required to close accounts operated by bitcoin exchanges by 15 April.
Heavy heart
"We hold a very heavy heart publishing this announcement," BTCTrade wrote in a statement to its customers. "BTCTrade just received a telephone call from our bank the Kejicheng branch of China Agricultural Bank Hangzhou, that if we do not stop using our bank account to conduct bitcoin related business by 15 April our account will be frozen."
According to the exchange, cryptocurrency withdrawals will not be affected until that date.
In a show of defiance against the tightening regulations of China's central bank, BTCTrade claimed that the announcement would fail to inflict too much damage on the exchange.
"We want to say: The passing madness continues into the distance but we firmly believe that the future is bright for BTCTrade and for the future of bitcoin," the statement concluded.
Uncertain future
Last week we saw a similar bitcoin price drop when fellow Chinese exchanges OKCoin and FXBTC received official notices from regulators that some of their accounts would be terminated. Another Chinese exchange, BTC38, has also announced that it is to suspend flat-to-digital currency trading following a shift in policy from the People's Bank of China.
It is unclear what impact the continuing threats of restrictions imposed by the Chinese government will have on the price of bitcoin, but going on past trends it is unlikely to be positive.