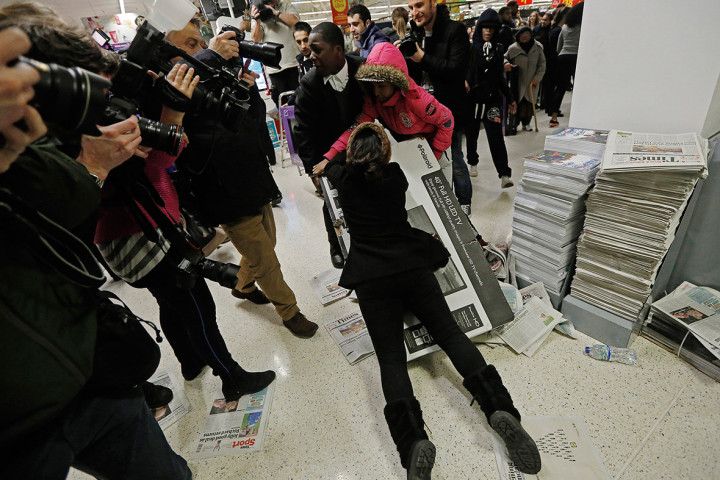 Retailers are hoping to continue cashing in over the weekend with a range of further discounts, after Black Friday mayhem spread across the UK yesterday.
Supermarket chain Asda, which had more than two million customers yesterday, is extending deals on a number of electrical products.
Microsoft is offering deals on Xbox One and Xbox 360 products this weekend, and Asda has revealed it is extending offers on products including laptops, TVs, and tablets.
Originating in the US, Black Friday saw retailers across the country slash prices, with more than £1bn ($1.56bn, $1.26bn) spent as hordes of shoppers descended on shopping centres and high streets.
The websites of major retailers including Tesco and Asda also crashed ahead of Cyber Monday, when online retailers will also offer discounts.
In some shopping centres, violence broke out, as people fought over discounted goods.
Police were called to stores in Manchester, Dundee, Glasgow, Cardiff and London.
Three people were arrested in the Manchester area, and a woman in was injured by a falling television, as the chief constable of Manchester police criticised retailers for failing to provide good enough store security to ensure customer safety.
"The events of last night were totally predictable and I am disappointed that stores did not have sufficient security staff on duty," Sir Peter Fahy told Sky News.
"This created situations where we had to deal with crushing, disorder and disputes between customers."
A Tesco store in Glasgow had to close, as people fought over items on sale. In London, police were called to Tesco stores in Edmonton, Willesden and Surrey Quays.
Sgt Paul Marshall, a Metropolitan Police officer, tweeted: "Even on #BlackFriday shoving people to the floor so you can get £20 off a Coffee Maker is still an assault."
Black Friday was introduced in the USA on the day after Thanksgiving and is believed to be so named as it helped retailers back into profit – or into "the black".