As any grandmother will tell you, it is only a bargain, if you meant to buy it anyway. That is the first thing to say about Black Friday.
The fast-growing post-Thanksgiving US shopping event kicked off this morning, and is set to last four days until Cyber Monday.
Some 14 million UK shoppers are expected to shell out £2.3m ($2.9m) a minute today spending a total of £1.97bn, according to VoucherCodes.co.uk and the Centre for Retail Research.
It is expected that consumers will spend £5.8bn over the four days climaxing on Cyber Monday.
This compares with last year when Black Friday sales hit £1.07bn, and spending amounted to £3.3bn over the entire four-day weekend.
Not only has the weekend taken off, it is becoming firmly established. US online retailer Amazon is in the middle of a 35-day Black Friday event, running from 16 November to 22 December, offering new deals as often as every five minutes at its peak.
Many other retailers started their Black Friday promotions at the beginning of this week.
However, consumer watchdog Which? said 49% of products "on offer" cost less in the months before or after the annual bargain frenzy.
The watchdog came up with its findings after tracking deals on 20 popular tech gadgets and home appliances on Amazon, AO, Argos, Currys and John Lewis for the three months before and two months after Black Friday last year.
Impulse buying
Which? head of campaigns Pete Moorey said: "If you're thinking about starting your Christmas shopping around Black Friday, do your research as some 'deals' may not be all they're cracked up to be."
Further research by Which? added that less than three in ten customers (28%) who said they had previously shopped on Black Friday enjoyed the experience.
Most shoppers gripes centre around the large crowds, untidy shops, although nearly one in six (17%) said they hated being bombarded by constant Christmas music in stores.
So why do we do it?
Psychologists tell us the urge to impulse buy is strong in all of us. Apparently, it goes back to our days as hunter-gatherers. If you saw something appealing, you would take it, whether you needed it at the time or not.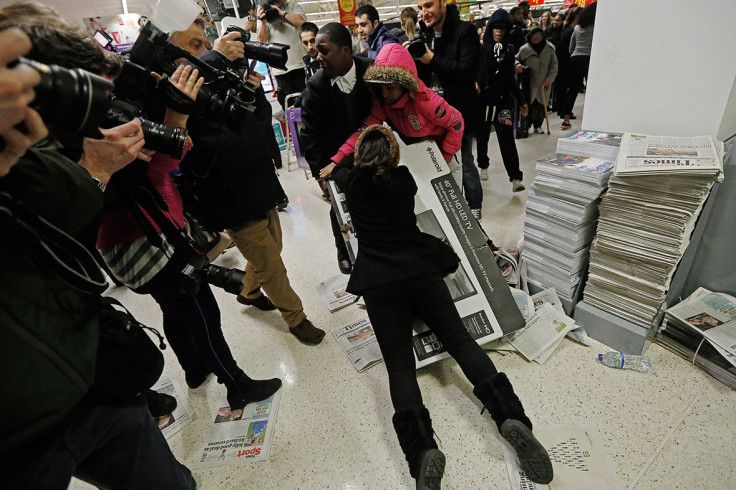 In shopping terms, this is similar to buying a product cheaply, fearing it will never be available at this price again, regardless of whether you need it.
Shopping is also undoubtedly bound up with the drive to impress your friends and perceptions of improved social status.
Many people simply find shopping fun. Psychologists say it is part of our daily search for happiness. The difficult fact for curmudgeons to accept is that in a capitalist society we live to consume, either now or later.
However, if you find yourself fighting another shopper for a big screen TV, you are probably dreaming about being in the Asda superstore in Wembley, north London in 2014 where this happened. But if you pinch yourself and find you are not dreaming, you should ask yourself would your grandmother do this?
That is the last thing to say about Black Friday.