In just six years or so Black Friday has in established itself as one of the key shopping days in the year – but even so key retailers refuse to take part.
Last year the US-imported shopping weekend hit sales of £1.07bn ($1.33bn), up 35% on the year before, according to figures from data firms IMRG and Experian.
Over the entire four-day weekend at the end of November, which ends with online shopping fest Cyber Monday, sales reached £3.3bn in 2015.
On the face of it these are impressive sales for a shopping day that began in earnest in 2010, when US online retailer Amazon began offering Black Friday discounts in the UK.
The day goes back to the 1940s, when US retailers began offering discounts to shoppers on the day after the Thanksgiving holiday.
But many retailers are divided about how much money is really raised over the period that comes so close to Christmas, the most important part in the year for the vast majority of retailers.
Some critics argue that this extra selling period just serves to spread festive sales over six weeks instead of two, while increasing the number of days products are sold at a discount.
A spokeswoman for trade body the British Retail Consortium told IBTimesUK: "Not all retailers participate in it. But others do see a surge in sales and continue with the promotion."
Supermarket Asda – owned by US giant Wal-Mart ­– famously abandoned the sales period in 2015 after embarrassing televised scenes of shoppers fighting over big-screen TVs in its stores the year before.
The then chief executive Andy Clarke said at the time: "Customers have told us loud and clear that they don't want to be held hostage to a day or two of sales."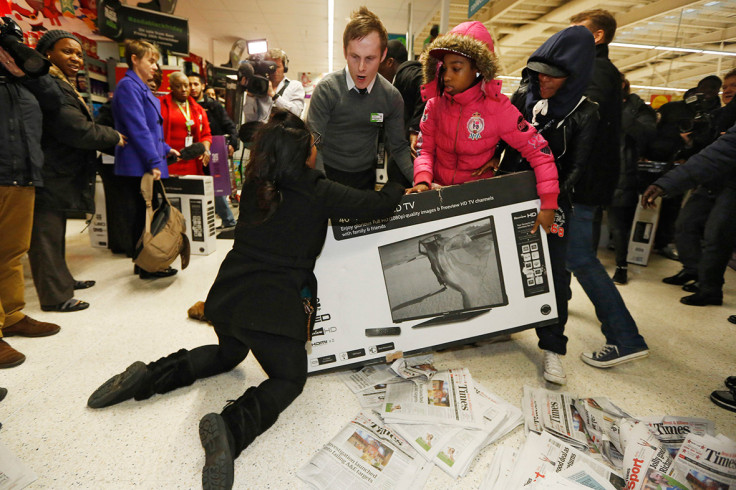 High street bellwether Next has never taken part in Black Friday sales. The respected fashion retailer tightly controls its discounting days. It limits them to a Christmas sale beginning on Boxing Day, a summer sale in July and two further one-day promotions held throughout the year.
"Black Friday sales are just something we don't do," a Next spokesman told IBTimesUK.
Swedish furniture retailer Ikea also avoids the long weekend. Emily Birkin, country sales manager, IKEA UK & Ireland said: "Our ambition is to offer everyday low prices all year round, which is why we don't take part in temporary discounting events."
A billion pound work-in-progress
Fashion chain Primark also shuns Black Friday, adding: "Primark offers great value on the high street every day of the year."
Despite the high sales generated over the long-weekend, both retailers and shoppers are still coming to terms with the period. Analysts at Shore Capital said: "Retailers have been, understandably, learning about the pitfalls of over distributing overly discounted lines to eager shoppers ahead of what has traditionally been peak trading season.
"Equally, shoppers have sussed out a lot of the specially ordered low-quality tat that comprises Black Friday too."
Black Friday appears to be a rapidly evolving work-in-progress.