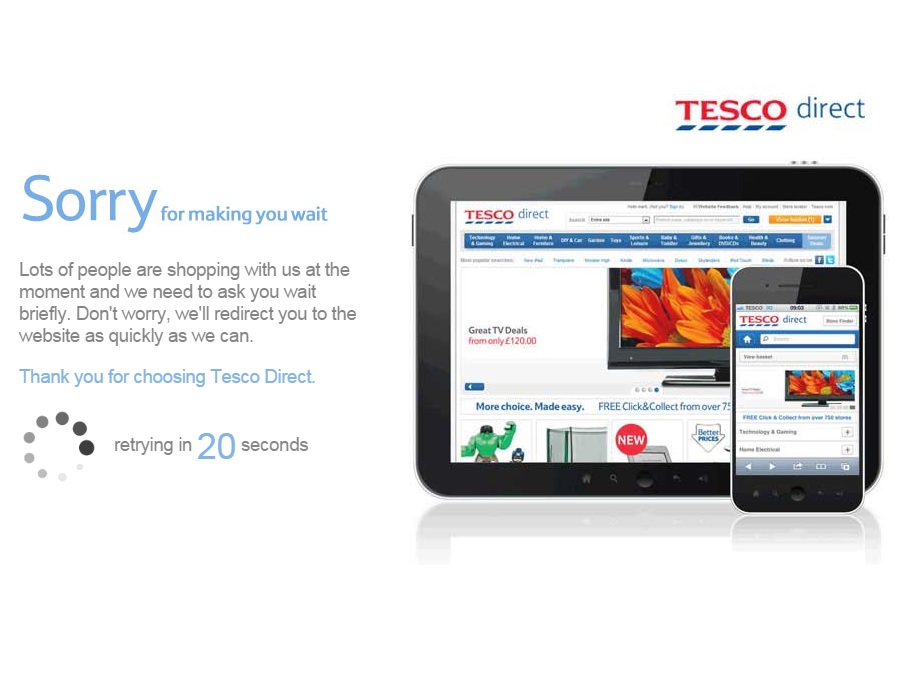 It just goes from bad to worse for Tesco. Now a Black Friday cherry has just been put on the Tesco mudcake.
As digital consumers rushed to buy up the best deals on Black Friday, the Tesco website especially created for the shopping event crashed under the strain overnight. By 11am, it was still not back up.
Retail analysts say Black Friday, an American consumer tradition on the day after Thanksgiving, is becoming increasingly important in the UK. Those not taking full advantage risk losing market share to rivals.
So it will be with horror that Tesco watches its Black Friday website crash amid the shopping madness at a time when it is struggling to defend its market position.
But this is only the most recent Tesco trouble. Among its many other concerns have been...
An ongoing accounting scandal.
It has just emerged that one of eight Tesco executives suspended over an accounting scandal has left the supermarket giant.
Tesco has been placed under criminal investigation by the Serious Fraud Office (SFO) after it admitting overstating profit by £250m (€316m, $402m).
Its financial results are getting weaker and its share price is plunging.
In the 2013/14 year – reported before the news about overstated profit – Tesco's group underlying profit before tax dropped 6% to £3.3bn.
Beneath that, profit was down 3.6% in the UK, 5.6% in Asia and 27.7% in Europe. Group sales were down 0.2% to £70.9bn at constant exchange rates. It had net debt of £6.6bn.
In the first half of 2014/15, it made £850m profit – after having knocked off the overstated £250m. Its half-year dividend has been slashed by 75% to 1.16p a share to give new boss Dave Lewis some financial room to manoeuvre.
These problems haven't gone unnoticed by markets. Since 1 January, Tesco's share price has dropped by over 45%. Marc Kimsey, a senior trader at Accendo Markets, said Tesco is "no longer a viable investment".
Tesco's market share is also tumbling and it's locked in a bitter price war.
Tesco is under attack at both ends of the market. Its value offer has been eroded by the growing success of Aldi and Lidl, while its items at the higher end in the Tesco Finest range are under pressure from Sainsbury's and Waitrose.
As a result, Tesco's share of the bricks and mortar UK grocery market has dipped from a peak of 31.8% in 2007 to 28.7% - its lowest in a decade.
And its margins are under pressure as all major supermarkets are engaged in a fierce price war. In order to stay competitive it has had to cut many of its prices and offer more coupons, which costs tens of millions of pounds to do.
It got caught up in the horsemeat scandal and ploughed £1bn into a failed marketing drive.
In 2013, horse DNA was found in several Tesco products, forcing it to withdraw them from the shelves. Its sales were hurt by the horsemeat scandal and so was its reputation.
So it announced £1bn of investment to refurbish stores, rejuvenate the brand, freshen up the product range, introduce more competitive promotions and pricing, and start a new marketing drive.
Dubbed the "Build a Better Tesco" programme, it looks to have failed. Everything is still going down: sales, profit and market share.
Its US venture flopped.
In 2007, Tesco launched its US arm under the Fresh & Easy brand. It swallowed £1bn and didn't turn out one single annual profit. So in 2013, it closed down its 200 stores in the US.