RIM's share price is at a 13-month high and it saw 19,000 BlackBerry 10 apps added to the BlackBerry World app store in just two days, a week before the Canadian company launches its make-or-break new smartphone OS, BlackBerry 10.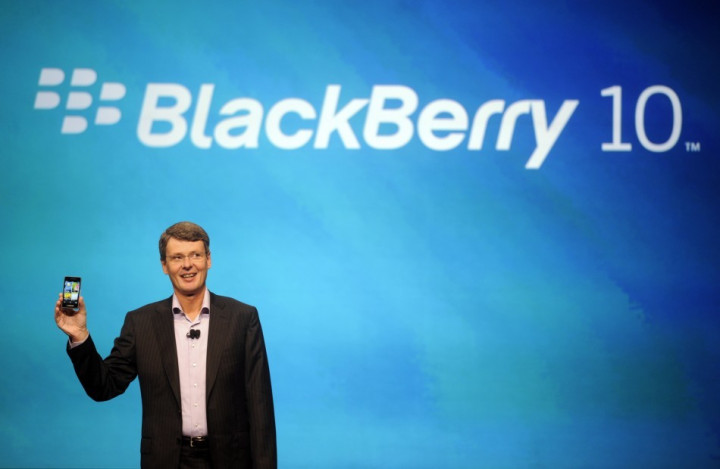 RIM is preparing for the launch of BlackBerry 10, alongside a couple of brand new smartphones running the OS, but rumours persist that the company could sell off its hardware production division and licence its software.
These rumours were given a lot more credence yesterday when CEO Thorsten Heins told German newspaper Die Welt that the company's on-going strategic review could lead to the sale of RIM's hardware division or the sale of licenses to its software, among other options.
That news led to RIM's shares jumping to a 13-month high on the Toronto stock exchange yesterday, before closing slighty down, and after just an hour of trading on the Nasdaq today, RIM's shares were up more than 11 percent.
It seems investors are happy with the idea that if BlackBerry 10 fails to take off on RIM's own devices, then it will be able to get rid of its hardware division altogether and licence the most valuable part of its business, the software.
RIM will launch BB10 in six locations around the globe next Wednesday, 30 January, and ahead of that launch, the company announced that it had added 19,000 new apps in just two days.
Extend
This has led RIM to extend the deadline for its Built for BlackBerry developer program from 21 January to 18 February. The scheme sees developers who submit an app for the new platform and which makes over $1,000 in 12 months, but less than $10,000, get a top-up from RIM for the difference.
"The fact is, the volume of apps being submitted for review and entry into the program has been remarkable. Due to that large volume of apps, we are extending the deadline," Alec Saunders said on the Inside BlackBerry Developer Blog.
However, apps built using the BlackBerry App generator - an automated tool for building basic apps - or apps ported from Android will be eligible for the Built for BlackBerry payouts.
Heins said in his interview yesterday that the company plans on having 70,000 apps in BlackBerry World - the rebranded BlackBerry App World web store - adding that quality over quantity was of utmost importance for him and RIM.
Having a well-stocked app store is key to any smartphone operating system gaining significant market share, and Microsoft has seen this with Windows Phone, where its Marketplace is not well stocked and is still lacking core apps.
However quantity is certainly not everything, as we have seen on Android, with Google Play featuring a vast amount of apps which have never been downloaded even once - with some estimates putting it as high as 50 percent of Android apps. Apple is similarly flooded with apps which never seen the light of day, but not to the same extent.
It makes Google's and Apple's bold claims of 700,000 apps available a bit redundant, and if RIM can focus on quality over quantity - as Heins has intimated - then it could prove a much more satisfactory user experience.