Key Features:
3.1in display, resolution 720 x 720, 328ppi
Dual-core 1.5GHz processor with 2GB RAM
16GB internal storage, plus up to 64GB via microSD card
HDMI-out
8-megapixel camera
Price: £535 SIM-free, or free from £37 per month on Vodafone
BlackBerry Q10 Review
The BlackBerry Q10 takes the company's all-new BlackBerry 10 operating system and mixes it with the physical Qwerty keyboard that made the company such a success story not that very long ago. But much has changed since 2007 and the first iPhone; touchscreen keyboards have improved beyond belief and any self-respecting smartphone needs to be a computer, games console and television if it's to be taken seriously.
But BlackBerry has ignored much of this with the Q10, hoping a phone that strips everything back to the basics in pursuit of making the ultimate communicator will be enough to not only produce a good phone, but one which will help the company survive by appealing to the business users who loved it most.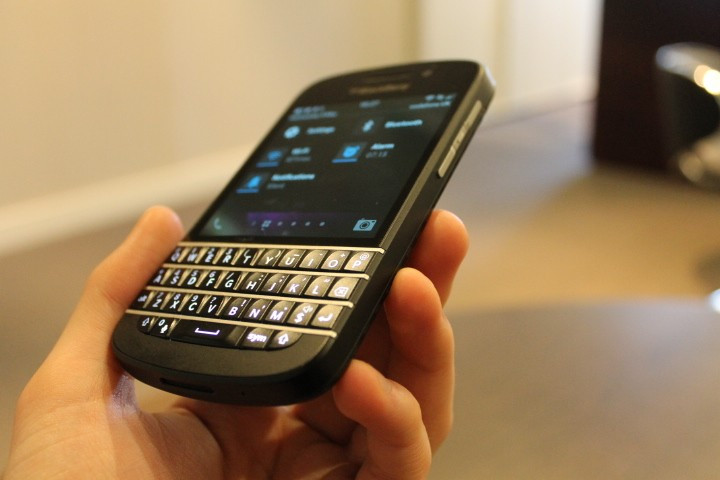 Design and Feel
Stepping from a Samsung Galaxy Note 2 to the BlackBerry Q10, as I did a week ago, is what I imagine moving from a Range Rover to a Mini might feel like. The sense of quality, purpose, performance and a relatively high price remain, but everything else is different: smaller and more compact, but also simplified and with fewer distractions.
Despite the initial shock, the Q10 isn't as cramped as I was expecting and users of the BlackBerry Bold will feel right at home. The general layout remains mostly unchanged from the BlackBerry phones of old - small square screen above black, physical Qwerty keyboard - but the trackpad has been ditched, handing over navigation control completely to a 3.1in touchscreen.
From the larger HD screen and complete lack of home button or navigational keys, to the aluminum frets between each row of keys and its carbon fibre back, there is no doubting the Q10 is a premium phone with a design (and price) to match.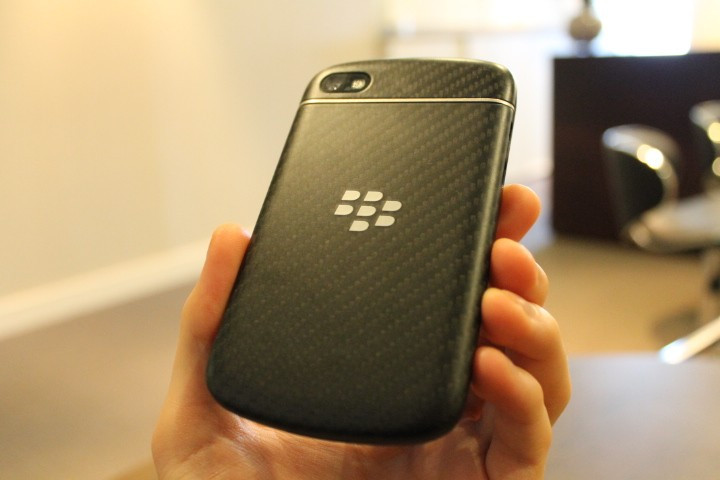 It's a design that is unmistakably BlackBerry and one which fits comfortably in both the palm of your hand and the business environment where BlackBerry hopes to sell Q10s by the boat load.
Turn the Q10 around and you see the carbon fibre back, which has a rubberised finish to help you grip the phone and just about stays the right side of tacky - a line most carbon fibre products leap over with questionable results.
Hardware and Connectivity
Aside from the screen and keyboard, the Q10 borrows much from the Z10. It's powered by the same dual-core 1.5GHz processor with 2GB of RAM, and there's 16GB of storage plus a microSD card slot which can take cards up to 64GB.
Inside, you'll find a full suite of wireless connectivity options inlcuding Wi-Fi N, Bluetooth 4.0, GPS, NFC and 4G.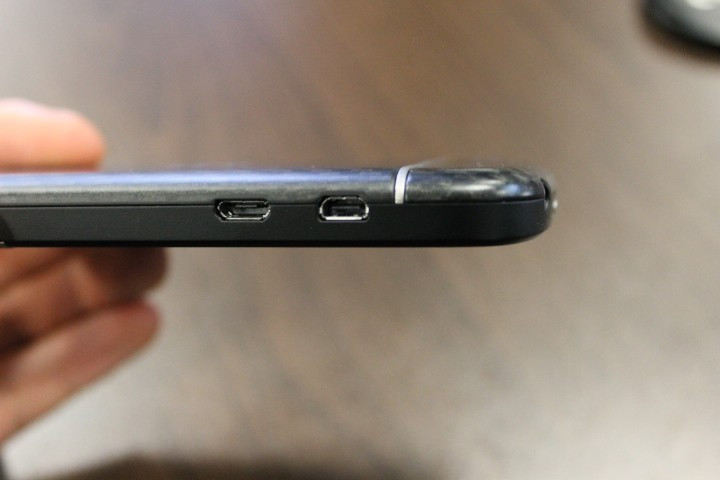 Display and Keyboard
The Q10's square Super AMOLED display has an HD resolution of 720 x 720 and a pixel density of 328 pixels per inch, but at just 3.1in diagonally it's very small compared to other smartphones.
Despite this, BlackBerry 10's lock and home screens look good and using the operating system is an almost identical experience to the larger Z10. If I were to pick fault, I'd say the screen isn't particularly bright; it's fine for indoor use but really struggles outside, especially on a sunny day. Otherwise, text is crips and sharp and colours are strong, although slightly too strong and cartoon-ish at times.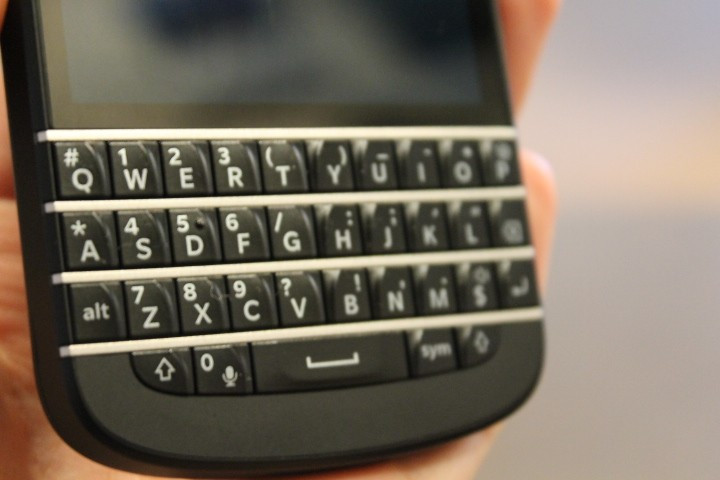 BlackBerry 10 does a good enough job of condensing itself into the smaller screen, but open an application like Facebook, Twitter or the web browser, and you are reminded just how little the Q10 can show you at once.
It's as if BlackBerry is offering you the entire internet, but you can only view it by peering through the catflap; there's only space for two tweets or Facebook updates at once before you have to scroll down.
Having not used a BlackBerry keyboard for ages, my first few hours of typing felt like playing the piano with welding gloves on, but after learning to trust the Q10's auto correction I soon remembered what all the fuss was about, and began to enjoy punching away at a 'proper' keyboard.
The keyboard also adds some extra functionality over the Z10, as typing from the home screen brings up a search bar to dig out anything stored on the phone, be it an app, contact, calendar event or text message.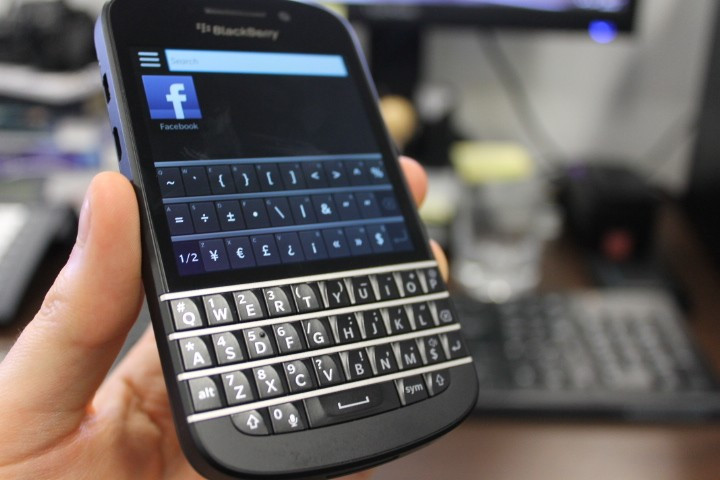 A series of actions also appear in the search results page. Type 'tw' and a button to post a tweet appears; type 'fa' and a shortcut to update your Facebook status sits at the top of the page.
Each key has a small ridge to help guide your thumbs into place and each row is separated by a metal fret, providing an extra guide when moving to the next letter; after a few hours I was typing at a comfortable speed and level of accuracy. For punctuation marks not on the keys you simply press the sym key, which opens an on-screen keyboard with two pages of brackets, numbers and currency signs.
Software and Performance
We have already looked at BlackBerry 10 in some detail and BlackBerry hasn't made any major changes when porting it over to the Q10, so I'll keep this brief.
The main feature of BB10 is the Hub. Basically a unified inbox to end all unified inboxes, Hub is accessed with a swipe from left to right and organises all notifications from BBM, text messages, all email accounts, Facebook, Twitter, LinkedIn and your voicemail.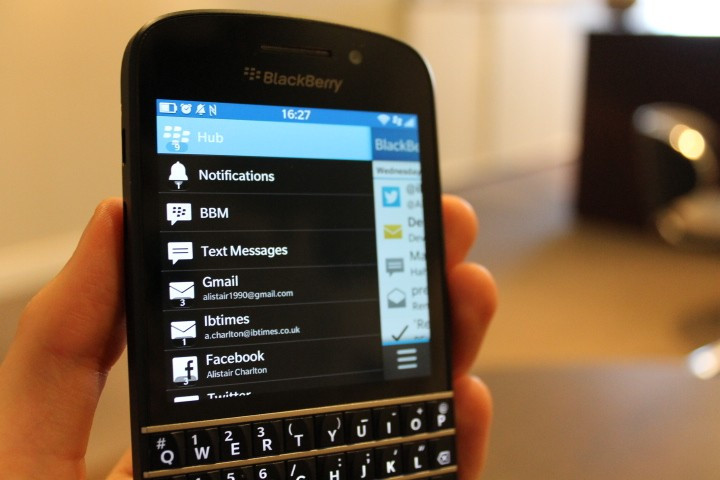 It can be overwhelming at first but each inbox can be viewed individually and once you get the hang of swiping between open applications and messages it becomes a joy to use, feeling much more integral to the operating system than the iPhone's Notification Center which often feels tacked on as an afterthought.
But the small screen once again has its limitations, and a number of times while scrolling through my social media feeds I would accidentally perform the swipe up action, closing the app and returning me to the home screen.
For me, BB10 is a fast and fluid operating system with intuitive gestures and an attractive design, but is still let down by a lack of quality applications in its BlackBerry World app store. Facebook and Twitter come pre installed, and popular apps like WhatsApp, Skype, the Guardian and Angry Birds are all available, but head into the top free and paid charts, and there isn't much to write home about.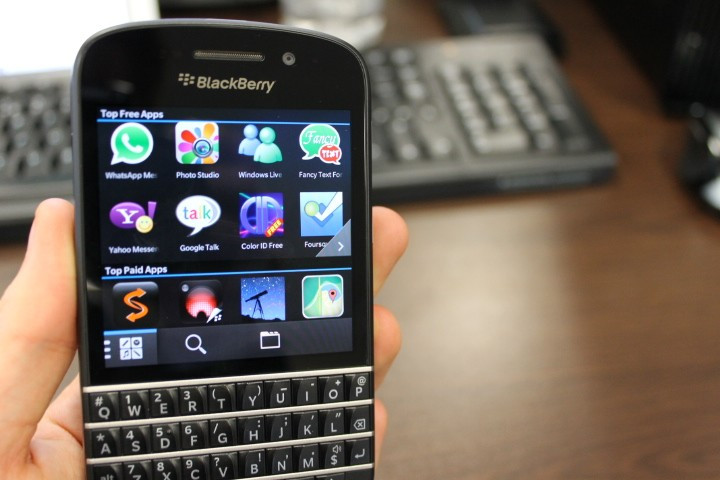 There's a mapping application that claims to use Google data, but costs £3.50 and isn't made by Google, and after downloading BBC's Sport and News apps I found they were merely links to the mobile websites. It's better than nothing, but BB10 has been out for three months now, so I was expecting more.
The Q10 shares the same 1,800mAh battery as the Z10, but thanks to its much smaller screen the time spent between charges is improved. That being said, the Q10 will want charging every night by all but the very lightest of users.
Camera
The Q10's 8-megapixel camera is exactly the same as used by the Z10 and can be opened from a shortcut in the lower-right corner of the home screen. Photos are taken by either tapping anywhere on the screen, or by pressing the volume up or down buttons.
Tapping on the screen to take a photo is fine, but I would rather tap to select an area to focus on, and then take the photo with a separate icon or dedicated shutter button.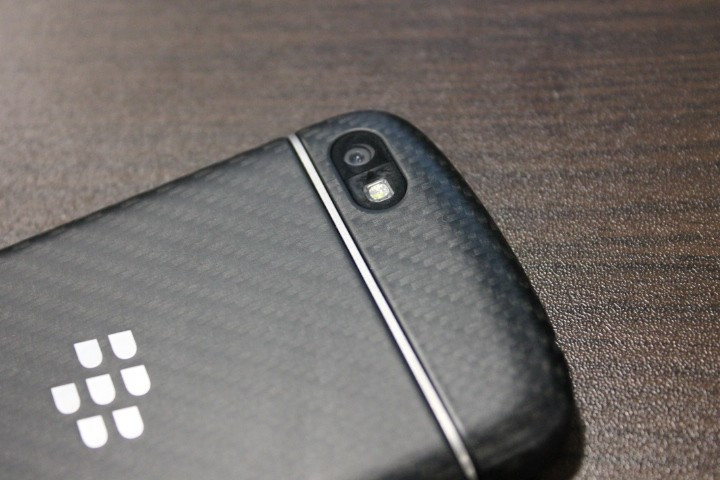 The BlackBerry Q10's camera doesn't produce anything remarkable, but for a point-and-shoot camera replacement it will do a decent job with good colour reproduction, although I found images taken indoors to be quite noisey without assistance from the flash.
BlackBerry 10's camera app has a smart feature which takes several photos before and after you press the shutter button. If someone blinks, you can rewind their face to the moment they smile, then patch that back into the rest of the photo.
On the front, the Q10 also copies the Z10, with a 2-megapixel camera capable of 720p HD video recording.
Conclusion
The Q10 probably won't convince anyone to ditch their iPhone 5 or Samsung Galaxy S4, but for those who have either stuck with an older BlackBerry because they like it, or have always used a Bold for work, then the Q10 makes perfect sense. It's the major update that keyboard lovers have been waiting for, and while the rest of us will balk at the small screen and tiny keys, I commend BlackBerry for both embracing change with the Z10 and sticking to its tried and tested roots with the Q10.
As Samsung tries to cram the Galaxy S4 with gimmicky features you will never use, BlackBerry has kept things simple here with both hardware and software.
Watching films on the small, square screen would be ridiculous, and so would playing games for any length of time, but those are tasks best performed on a small tablet. The Q10 sticks to what it knows best: being a hugely impressive phone and means of communication. Calls, text, email and every social network you could imagine are all managed together seamlessly and without distraction.
It might not be the Jack of all trades, but instead everything it does, it does brilliantly. BlackBerry World still needs more headline apps - Instagram, for a start - but otherwise if you are looking for a smartphone with a keyboard, or simply an impressive phone without the distractions and excess polish of a Samsung Galaxy or iPhone, the Q10 could be for you.
Scores:
Design: 9/10
Build Quality: 9/10
Display: 7/10
Connectivity: 8/10
Overall: 8/10
The Good:
Excellent design and build quality
Screen very readable, given small size
Keyboard a joy once you're used to it
The Bad:
Small, square screen no good for video or gaming
BlackBerry World still lacking key apps
Expensive
Camera sample shots