Key Features:
4.2in display, resolution 1280 x 768, 355ppi
Dual-core, 1.5GHz processor with 2GB RAM
16GB internal storage plus up to 32GB via microSD card
HDMI-out
8-megapixel camera
Price: £480 SIM-free
BlackBerry Z10: Introduction
We've spoken at length about Research in Motion's slow and sorry demise over recent years, but for the all-new BlackBerry Z10 and it's BlackBerry 10 operating system, all previous negativity has been cast aside in favour of giving a fair review.
Having said that, there's no getting away from the fact that this smartphone, the BlackBerry Z10, has the weight of an entire company resting on its shoulders.
With the Q10 and it's physical keyboard not yet on sale, the fight to convince consumers, investors and businesses alike that BlackBerry is worth sticking with - and even going back to - will be fought by the Z10.
Launched at six simultaneous press conferences spanning the globe and given enough media coverage to make Apple feel uncomfortable, the BlackBerry Z10 was given the best possible start in life. Now, after almost a week with the new handset, we see what it's really like.
BlackBerry Z10: Design and Feel
Subtle and refined, yet purposeful, the Z10 is BlackBerry clearing its throat, forgetting the torrid years it has endured of late, and getting back to business.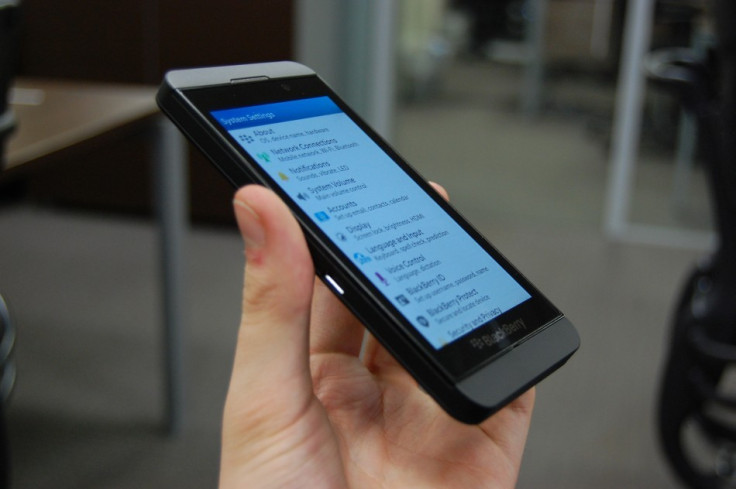 While fellow down-and-out smartphone maker Nokia went for big, bright and bold in its attempts to stay alive, BlackBerry has taken an approach that doesn't stray far from the generic smartphone mould, but just about does enough to be unique and recognisable.
The BlackBerry Z10 bears a striking resemblance to the iPhone 5, not just in the general shape, but also the plastic strips above and below the screen instantly remind us of the back of the latest Apple phone.
Pick the Z10 up and you notice immediately how light and slim it is. At 138g and 9mm thick, it isn't quite on the same level as the iPhone 5, but the BlackBerry has a slightly larger screen, at 4.2in compared to Apple's 4in screen.
You could criticise BlackBerry for using an all-plastic construction with the Z10, but this helps to make the phone feel comfortable and secure in your hand.
Using the Z10 with one hand is easy, and the textured back with its dimpled motif means you are unlikely to drop it.
The Z10 may appear cheap at first glance, but take a closer look and you'll see how neat and tidy the whole design is, how the screen is surrounded by a subtle glossy black border, and how that drapes over the sides of the phone slightly.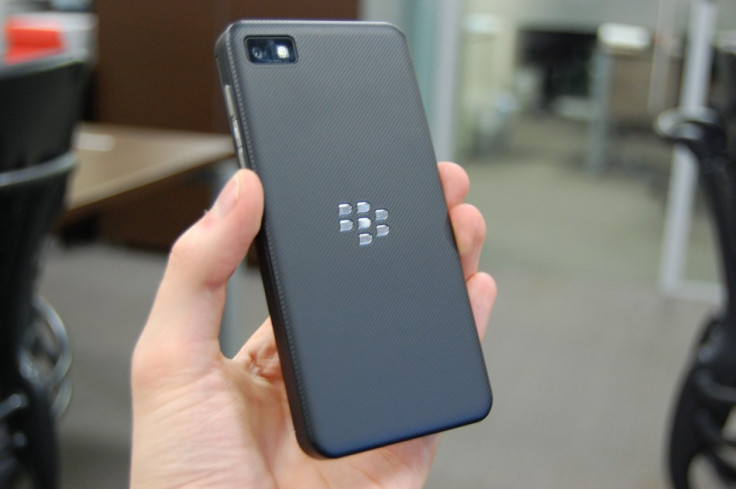 Look also at the buttons - volume and play/pause on the right, power/screen lock at the top - and how they don't rattle around in their housings; everything about the Z10's design is tightly packaged.
There is an 8-megapixel camera on the back with autofocus and LED flash, and a 2-megapixel camera installed next to a notification light above the display, which is protected by glass.
My only criticism of the Z10 is the fit of the rear cover. It snaps tightly into place around every edge apart from at the bottom, where it gives way to the speaker.
Here, the cover doesn't fit as neatly against the phone, and when you push it down into place, it resists and stands slightly proud. It's a small complaint and I hope highlighting it gives praise to just how good the rest of the phone is.
BlackBerry Z10: Hardware and Connectivity
The left edge of the BlackBerry Z10 houses a micro USB port for charging and connecting to your computer and, omitted from most smartphones, a micro HDMI port, so you can play content stored on the phone through an HD projector or television.
Unfortunately, you won't get many HD films on the Z10 due to its small 16GB of internal storage. What used to be huge for smartphones, this is now the minimum we'd expect from a device costing almost £500.
Thankfully, removing the rear cover reveals a microSD card slot that will accept cards of up to 32GB, which can be installed and removed without the need to take out the battery.
Inside, BlackBerry has included everything you would expect from a high-end smartphone. This means Bluetooth 4.0, dual-band Wi-Fi, NFC, an accelerometer, gyro, proximity sensor and compass.
There's also LTE that works with EE's 4G network, as well as future 4G networks from Vodafone, Three and others, which are due to go online later this year.
If only Apple had done the same with its iPhone 5 and newest iPads, none of which will work on any UK 4G network apart from EE until Apple updates the hardware.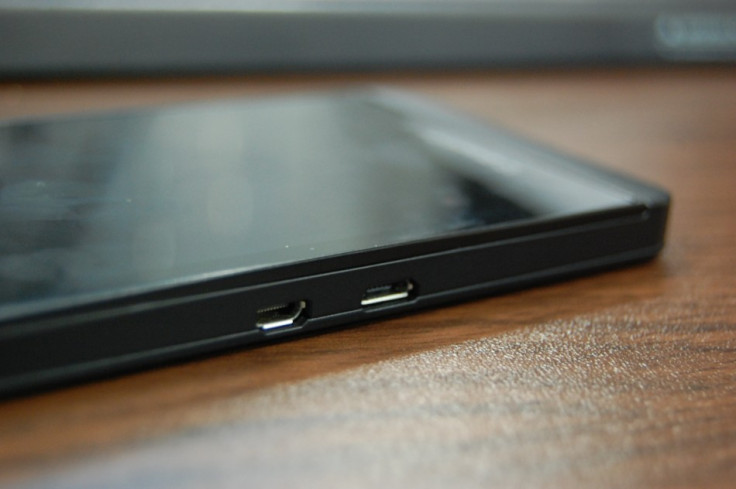 BlackBerry Z10: Display
The 4.2in touchscreen display of the Z10 has a resolution of 1280 x 768 giving it a pixel density of 355 pixels per inch (ppi), making it one of the sharpest and highest resolution screens around - higher even than the 326ppi Retina screen of the iPhone 5.
It really is an excellent display; incredibly sharp, text looks very good, colours are vibrant, and blacks are just as dark as the surrounding bezel.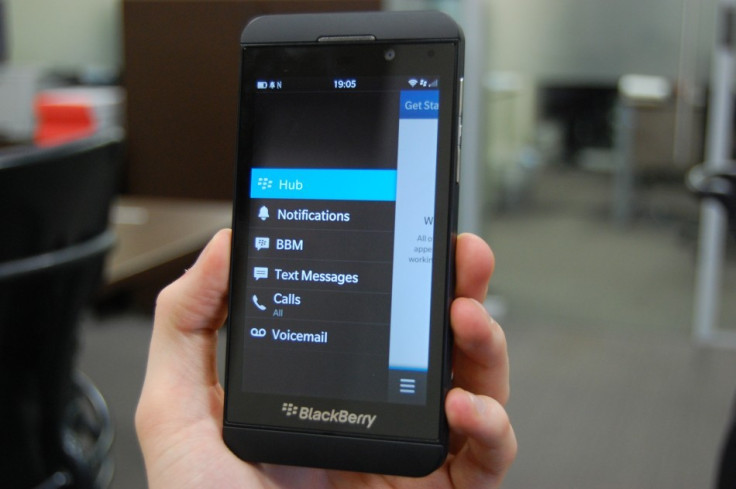 Although you won't notice any problems when viewed in isolation, comparing the Z10's screen with my iPhone 4S revealed a yellow tinge to colours produced by the BlackBerry and the backlight isn't as strong, although I admit I'm splitting hairs here.
New phones sometimes appear yellow for a few days until a bonding agent in the display fully dries, so this tinge may well fade over time, and even if it doesn't it's hardly cause for concern.
Strangely, there is no auto-brightness option with BlackBerry 10, so you have to dig into the settings menu and adjust the brightness yourself.
BlackBerry Z10: Camera
The Z10's 8-megapixel camera can be opened from a shortcut in the lower-right corner of the homescreen, and photos can be taken by either tapping anywhere on the screen, or by pressing the volume up or down buttons, although sometimes the phone would get confused and raise the volume of something I'd recently watched or listened to instead.
You can shoot photos in normal, stabilisation or burst mode, the latter taking as many photos as you want, so long as you keep your finger pressed to the screen.
Tapping on the screen to take a photo is fine, but I would rather tap to select an area to focus on, and then take the photo with a separate icon or dedicated shutter button.
I'm pleased to see BlackBerry has placed the rear camera in an upper corner, well out of the way of your fingers, unlike the centrally-located camera on the Lumia 920, which can be easily obscured.
As for image quality, the BlackBerry Z10 doesn't produce anything remarkable like the hugely impressive Nokia Lumia 920, but for a point-and-shoot camera replacement the Z10 will do a decent job, with good colour reproduction, although I found images to be quite noisey without assistance from the flash.
Turn the flash on and, as with most smartphones, it struggles to spread light evenly across subjects, unless they are quite far away.
BlackBerry Z10: Performance
We already have a full review of the new BlackBerry 10 operating system on the site, so instead of repeating it all again here, I will keep things brief.
After using the BlackBerry Z10 for just under a week, I have very few performance issues to report, and found the Z10 to multitask several apps at once with ease, thanks to the speedy processor and huge 2GB of RAM.
The operating system helps out here too, by only allowing you to have eight applications multitasking at once, so the phone is never going to get too bogged down, as opening a ninth app will force the first to close.
Switching between any of the eight open apps is absolutely seamless, and even games are handled with ease - I was impressed at just how quickly a game would resume after flicking to it from the browser or any other open app.
The web browser would occasionally stutter when scrolling around image-heavy sites, but a half-second of lag was all it took for the site to become responsive again, and I didn't have the browser crash on me a single time.
I encountered a couple of issues with handling calls and incoming text messages with the Z10, where people trying to call me would be met with my answer phone, and text messages would fail to come through for a number of hours.
I know the phone had a good signal at the time, but a quick reboot seems to have fixed this problem, as it is yet to recur several days later.
Despite being hidden behind a tiny gap on the bottom edge of the phone, the speaker is of decent quality. You probably won't want to play music on it for long, but hearing the phone ring was never a problem, and the keyboard volume can be controlled independently, which is a bonus for me, as I find typing on a touchscreen much easier when I can hear what's going on.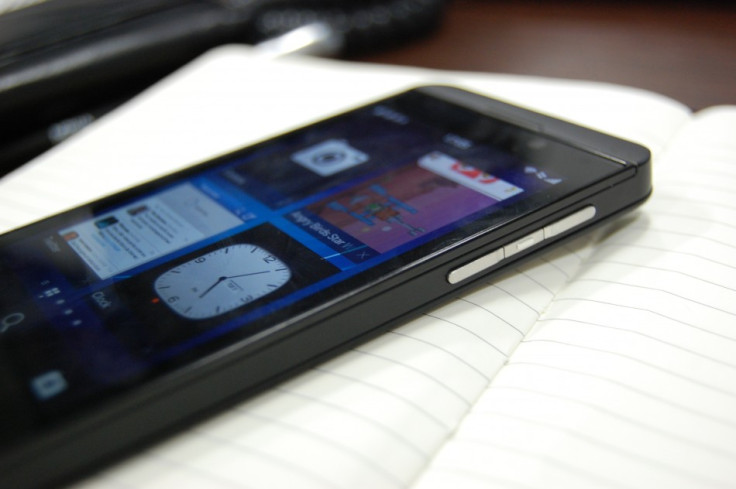 Finally, battery life was something of a letdown with the Z10. At 1,800 mAh, it is 360mAh larger than that of the iPhone 5, but I saw no improvement in the time between charges.
With Wi-Fi and push email, notifications etc turned on, the Z10's battery was down to around 50 percent before I left the office at 5pm, and that's without really doing anything with it. Start making calls, sending emails and playing games, and you will struggle to get an average day out of it, which is a shame.
BlackBerry Z10: Conclusion
BlackBerry has done what we expended - subtle, nothing too outrageous, just follow the crowd - and it's paid off, producing a handsome and well-made smartphone that feels great to hold and has a screen that's one of the best I've ever seen on a phone.
The only real disappointment here is the battery life, which could do with lasting a couple of more hours at the end of each day.
Has the BlackBerry Z10 saved the company from disaster? It's too early to say for sure, but I urge the pessimists to at least give it a chance, it's a huge step forward from the BlackBerry's of old, and may well surprise you.
Scores:
Design: 8/10
Build Quality: 8/10
Display: 9/10
Connectivity: 8/10
Overall: 8.5/10