Announced simultaneously at six media events across the world, Research in Motion finally showed off its long-awaited BlackBerry 10 operating system and two new smartphones - the Z10 and Q10.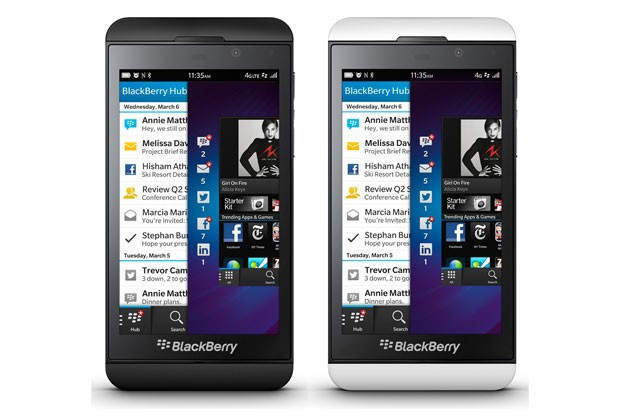 Available in black and white, the Z10 features a 4.2in touchscreen with a resolution of 1280 x 768 and a pixel density of 355 per inch, which makes the screen just as sharp as that of the iPhone 5.
Powered by a dual-core 1.5GHz processor with 2GB of RAM, the Z10 has 16GB of internal storage, which can be increased by up to 32GB, thanks to a microSD card slot.
Around the back RIM has installed an 8-megapixel camera with autofocus, LED flash and full 1080p HD video recording; this is joined by a front-facing 2-megapixel camera with 720p HD video recording.
The Z10 also has the usual range of smartphone features, including Bluetooth 4.0, Wi-Fi, GPS, NFC and 4G that will work not only on EE's current network, but also on 4G networks provided by Vodafone, O2 and others, which are due to go online later this year.
Quite possibly the worst-kept secrets in tech, the two new BlackBerrys have been spied in various stages of development over recent months, so today's announcement may not have been the most shocking or surprising, but it was certainly the most important for RIM this decade.
BlackBerry announced that the Z10 will go on sale in the UK from 31 January and will be available from EE, Vodafone, O2, Three and BT, as well as through Phone4U and Carphone Warehouse.
BlackBerry Q10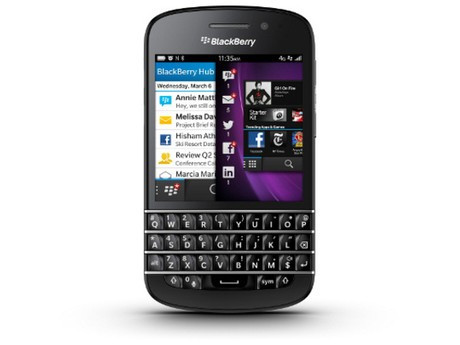 Alongside the Z10, RIM announced the Q10. Also well-documented through various leaks (although previously dubbed X10), the Q10 has a form factor that will be familiar to most BlackBerry users, as it combines a touchscreen with the company's signature physical keyboard.
Looking like a stretched BlackBerry Bold, the Q10 has a 3.1in AMOLED touchscreen with a resolution of 720 x 720 and a pixel density of 330 per inch. The Q10 is powered by the same dual-core 1.5GHz processor and 2GB of RAM as the Z10.
"We know there are a lot of physical keyboard lovers out there," BlackBerry CEO Thorsten Heins said during the launch event.
Both smartphones will have access to the BlackBerry World app store, which is well-stocked from day one, with 70,000 apps, including Skype, WhatsApp, Kindle, Angry Birds and many more - considering Windows Phone launched with just 2,000 apps, this is a promising start for BB10.
The Q10's back is constructed from what BlackBerry calls a "glass weave," which is claimed to be "thinner, lighter and stronger" than regular plastic.
Finally, both the Q10 and Z10 have removable batteries and micro HDMI out ports for connecting them to HD televisions or projectors.
BlackBerry has not yet announced a price or release date for the Q10.