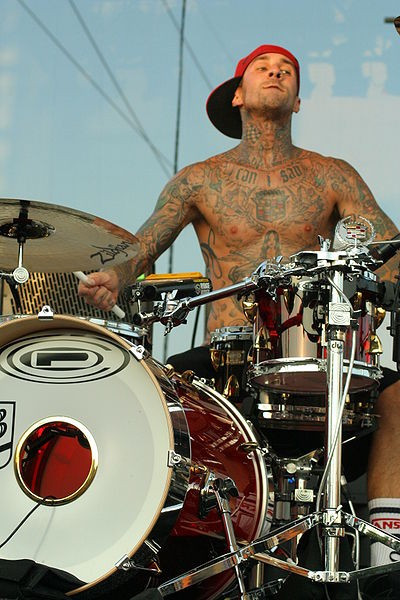 Blink-182 drummer Travis Barker offered to pay his friends £1m to end his life, as he struggled to cope with depression. In a candid interview with Good Morning America, the musician revealed that he was left suicidal following a plane crash that left him with serious burns.
In 2008, the 37-year-old was hurt when a Learjet he had boarded en route to California crashed on takeoff and veered into an embankment. Four people died in the crash including his security guard and assistant. Barker and Adam Goldstein, also known as DJ AM, were the only survivors.
Recalling his ordeal he said: "The plane's on fire and my hands are on fire so I unbuckle my seat belt and I jump right into the jet, which holds all the fuel. I basically ignite my whole body in fire. I'm so soaked in jet fuel, there's nothing I can do to put the fire out."
According to Sky News, Barker suffered more than 65% burns and underwent 27 surgeries in the aftermath of the accident. However, the psychological impact of the accident left him wanting to end his life. "I would call friends of mine and go, 'You know, I'll deposit a million dollars into whoever's bank account. Like, I'm done'. I mean, they had to take my phone out of my room because I was making these phone calls," he revealed.
Still traumatised by the accident, he was later accused of extortion by a music promoter in Australia after he said he could not play at the Soundwave Festival in Melbourne because of his fear of flying.
He now credits his children Landon, 12, and Alabama, nine with helping him to recover, however he is not yet ready to get back in a plane. "I tell my children, 'When you're ready to fly, I'm ready to fly,'" he said. "So if my son came to me and said, 'Dad, let's fly to Hawaii,' or, 'Dad, let's go to Australia,' I'm in Australia."
The drummer has most recently been romantically linked to singer and X Factor judge Rita Ora. The pair are said to have struck up a bond after meeting at the Power 106 All-Star Game on 20 September and have reportedly been dating ever since.