Bloodhound SSC will aim to set a new land speed record of 800 miles per hour on 15 October, 2016, exactly 19 years after the current record of 763mph was set. RAF Wing Commander Andy Green will break his own record when he pilots the Bristol-built jet car through the sound barrier, before attempting to reach 1,000mph in 2017.
The date of Bloodhound's record attempt was announced at the car's global public debut in London's Canary Wharf financial district. More than 8,000 Bloodhound fans have booked tickets to come and see the car up close over the next two days; they'll also get to experience a 1,000mph run through a virtual reality headset, look at a model of the car's EJ200 jet engine, and try their hand at breaking the 1,000mph barrier on a Bloodhound simulator.
The power of 180 Formula One cars
With a 550 horsepower Jaguar V8 acting as its fuel pump, Bloodhound's total power output is 135,000bhp – more than 180 Formula One cars. At top speed, Bloodhound will cover a mile in 3.6 seconds.
Bloodhound project director Richard Noble OBE, himself holder of the land speed record from 1983 to 1997, told IBTimes UK: "Bloodhound is about breaking the world land speed record and producing the world's fastest car, but the curious thing is, that's not its primary objective. It's primary objective is to create change and generate a new generation of scientists and engineers."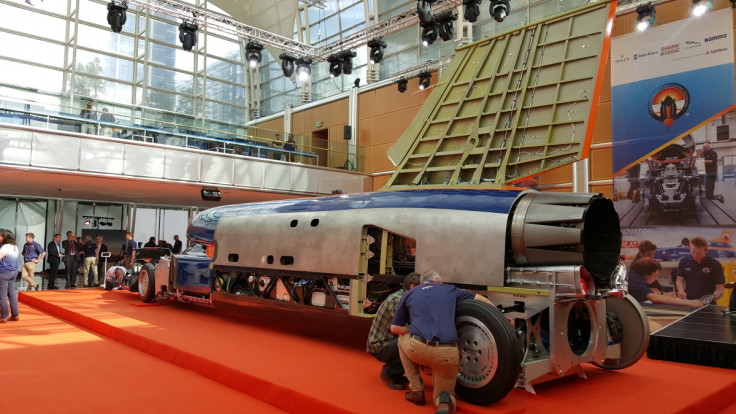 To that end, Bloodhound, which has been in development for eight years, has already been a major success. It has an education scheme which is now taught in 6,000 schools in the UK and a further 1,000 schools in South Africa, where Bloodhound will run in 2016 and 2017.
Having set the record himself driving Thrust 2 to 633mph in 1983, Noble was project manager of Thrust SSC, driven by Green to 763mph in 1997. Breaking the sound barrier with a car for the first time was a huge achievement, but not long after Noble discovered that an American team was preparing to break his and Green's record.
The best of British
Philip Dunne, the minister of state for procurement at the Ministry of Defence, told IBTimes UK: "The Ministry of Defence has been backing this project from the start. We provided the EJ 200 engine which provides the main thrust for the vehicle.
"This is backing the best of British engineering and we're here in the centre of the best of British banking to demonstrate that the car is now here and close to being ready to run. It's a very exciting example of the best of British trying to break the world land speed record."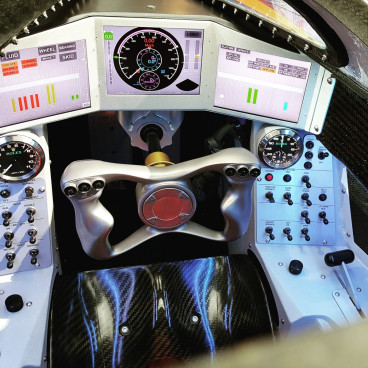 Echoing Noble's belief that education is the highlight here and not outright speed and record-breaking, Dunne added: "Our real motivation for backing this project is to encourage the school kids of today to become the engineers of tomorrow."
The Apollo moment for the 21st century
During a visit to the Bloodhound Technical Centre – in reality little more than a large workshop on an industrial estate in Bristol – in April 2015, driver Andy Green described Bloodhound to IBTimes UK as "the world's most sophisticated race car, which is part Formula One racer, part supersonic jet fighter, part next-generation space rocket...We're going to hit the same audience as the Apollo. This is going to be the Apollo moment for the 21st century."
At Bloodhound's public launch, Noble said: "Basically, the whole team was absolutely knackered after Thrust SSC [in 1997]; it took most people about two years to personally recover from it and we swore we'd never, ever come back – and here we are. This is simply because the Americans decided they were going to create a car to take our supersonic record, so we thought we'd set the bar so high that they'd find it difficult to come back."
The 69-year-old explained to IBTimes UK how breaking the land speed record is a distinctly British pursuit. "We've sort of kept it going because it fits very much with the British culture. It's all about innovation, creativity – having a go, you know. It fits in with what we all tend to do and that's really good, but we hope it will now spread. We know that the Australians are building a car which is really good and the Americans have another 800mph car under development."
When asked what he will do when Bloodhound's record is beaten, Noble said. "We think this is about as fast as it is possible to go – but we're probably wrong, we thought that last time."