The road to 1,000mph: Bloodhound SSC to begin testing on Cornwall runway in November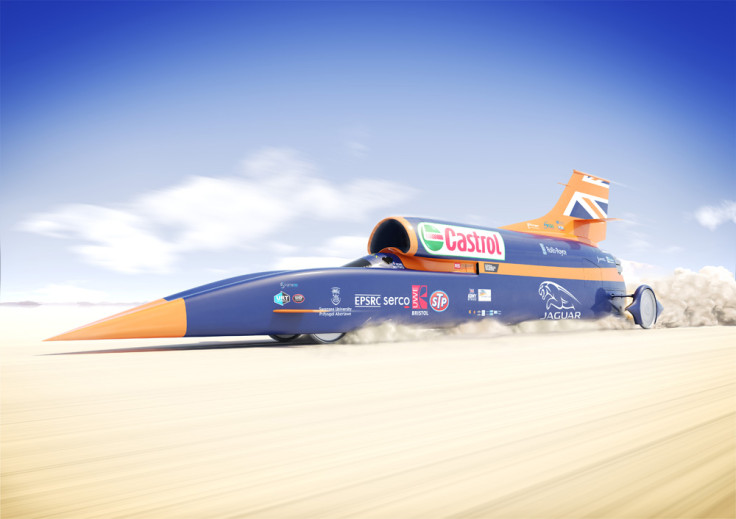 Bloodhound SSC, the supersonic car built to travel at over 1,000 miles per hour, will make its world debut on a runway in Cornwall this November.
Constructed on an industrial estate in Bristol, the car – powered by a rocket, a Jaguar V8 engine and the jet engine from a Eurofighter Typhoon – will take part in a number of tests on the runway at Newquay Aerohub on 17 November.
The vehicle, which has the equivalent of 135,000 horsepower, will drive at up to 200 mph during the first test runs, before heading to the Hakskeen Pan in South Africa next summer to increase this gradually to 800mph, where it will break the current land speed record of 763mph. It will then return home later in 2016 to crack 1,000mph.
Ahead of the first trial runs, the car will be shown in an near-complete state at the team's workshop in Avonmouth, near Bristol, in August. During the runs in Cornwall, the car will be fitted with traditional rubber tyres and rely only on its disc brakes to stop. When in South Africa, the car will have titanium wheels and use a parachute, airbrakes and discs to haul it to a halt.
Alongside the goal of breaking the record then reaching 1,000mph, the project is also aimed at inspiring and educating the next generation of scientists and engineers. Around 100,000 school children take part in Bloodhound activities in UK schools each year, along with many more in South Africa and in over 200 countries around the world.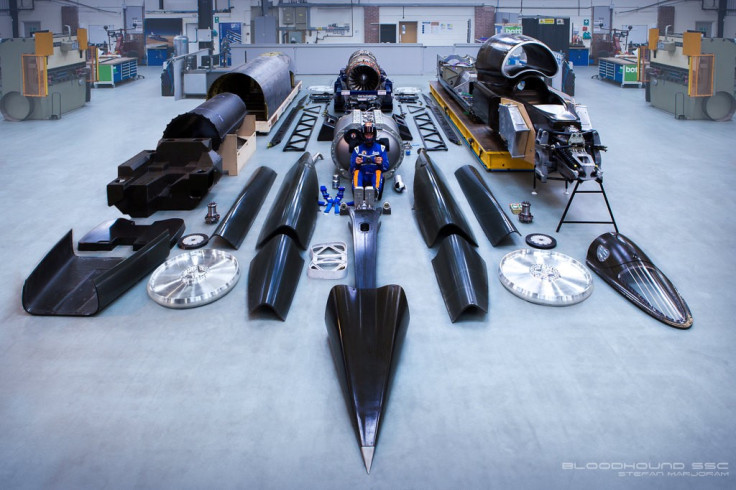 Any vehicle competing to set a new land speed record must cover a measured mile, turn around, refuel, and cover the same mile in the opposite direction within an hour. An average of the two runs is then compared to the current record. At top speed, Bloodhound, which will be driven by RAF Wing Commander Andy Green, will cover that mile in 3.6 seconds, at a rate of 4.5 football pitches every second.
'Apollo moment for the 21st century'
Speaking to IBTimes UK during a visit to the workshop, Green describes Bloodhound as "the world's most sophisticated race car, which is part Formula One racer, part supersonic jet fighter, part next-generation space rocket... we're going to hit the same audience as the Apollo. This is going to be the Apollo moment for the 21st century."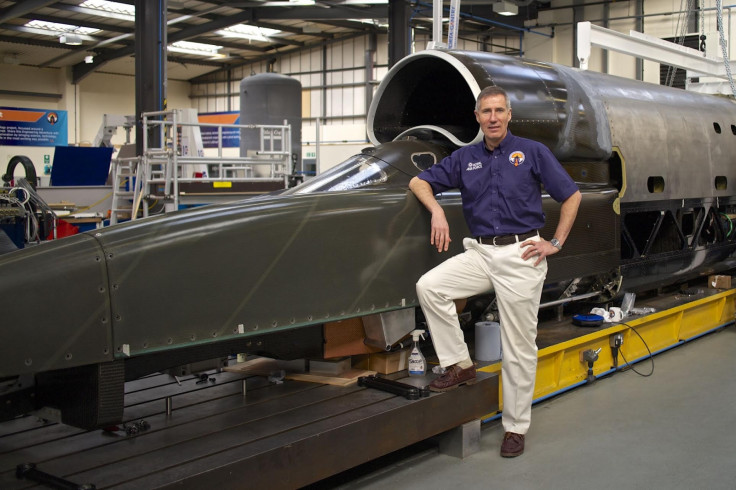 RAF Wing Commander Andy Green, 52, already holds the land speed record of 763mph.
The Bloodhound Project
Green isn't alone in his pursuit of breaking the 763mph record, which he himself set in a car called Thrust SSC in 1997. A US attempt – called the North American Eagle – has already achieved 400mph, while an Australian bid for the record is also in development.
Discussing the pace of his rivals, Green said: "I'm very disappointed that they haven't managed to run their cars to records yet, because the one thing that's more exciting than breaking your own record is breaking somebody else's.
"My message to both of them is; please do break our record, because it will make our education programme so much richer...and second of all, guys, get a move on...you haven't got long until the world's fastest car is coming to get you!"
© Copyright IBTimes 2023. All rights reserved.