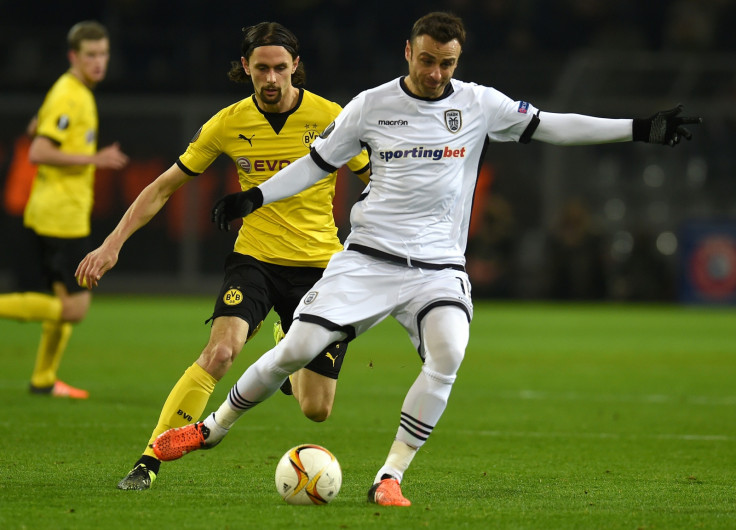 Bob Bradley has confirmed Dimitar Berbatov is on the Swansea City radar after the former Manchester United and Tottenham Hotspur hotshot revealed his intention to return to the Premier League. The American boss has urged his side to move on from the recent defeat to Stoke City and turn their disappointing start to the campaign around with a win over Jose Mourinho's struggling United side on Sunday (6 November).
"When you've played in the Premier League you don't want to play anywhere else," the former Manchester United striker said to BBC Radio 5 Live earlier this week. "In this stage of my career I know where I am – I would happily play for a team where they use my experience and my knowledge. I can help young players develop and make the team stronger. In the end it's all about helping the team play."
Swansea signed former one-time international Fernando Llorente and his compatriot Borja Baston during the summer mercato to bolster their attack following the departures of Eder, Alberto Paloschi, Bafetimbi Gomis and Andre Ayew. However, the Iberian duo are yet to catch fire in England, scoring just one league goal each.
Bradley has now gone on record as suggesting that Berbatov's experience would be a perfect fit for Swansea's under-firing attack. The 35-year-old is a free agent after leaving Greek outfit PAOK over the summer.
"I actually saw him in May at the celebration game for [Hristo] Stocihkov in Sofia. I've met him a few times and I know he's anxious to get back in the Premier League," the Swansea boss said in a pre-match press conference, as quoted by Sky Sports. "Everybody in our club knows that, so when there's discussions his name is mentioned, but where it goes we'll see. He's on our radar but there are a lot of things on our radar."
Swansea host Berbatov's former side Manchester United this weekend, as they continue the hunt for their first win under Bradley. The Swans haven't won in nine, and the 3-1 defeat to Stoke City on Monday left them second from bottom in the Premier League table, five points from safety.
However, Bradley still believes he can turn the situation around, pointing to a series of positives he saw during defeat to the Potters. He adds that his players need to "smell danger" if they are to take points off a Manchester United team who equally look soft upfront.
"What I see on the surface is that the group does a good job with everything," he said. "They understand going into a game what the opponent wants to do and some of our ideas on how to handle that. But in a match, situations develop quickly, and you need the ability to recognise those situations, to smell danger and react quickly.
"For me, that's the area where I think we are missing the most. That's what I mean when I talk about players lacking confidence. In a game you can appear for long stretches to be doing a solid enough job, but you cannot have four, five or six plays where the ball pops loose, the opponent does something a bit different from what you expect and they make something out of it.
"We don't deal with those situations well enough. I have seen examples of that before I came in and I still see them.
"People have made an effort to get back into the game, but in terms of asserting ourselves at the right moment, we have to improve. We can't get caught in these situations the way we have been doing, because you concede goals."