Boko Haram: Rescued Chibok girl Amina Ali arrives in Abuja to meet President Buhari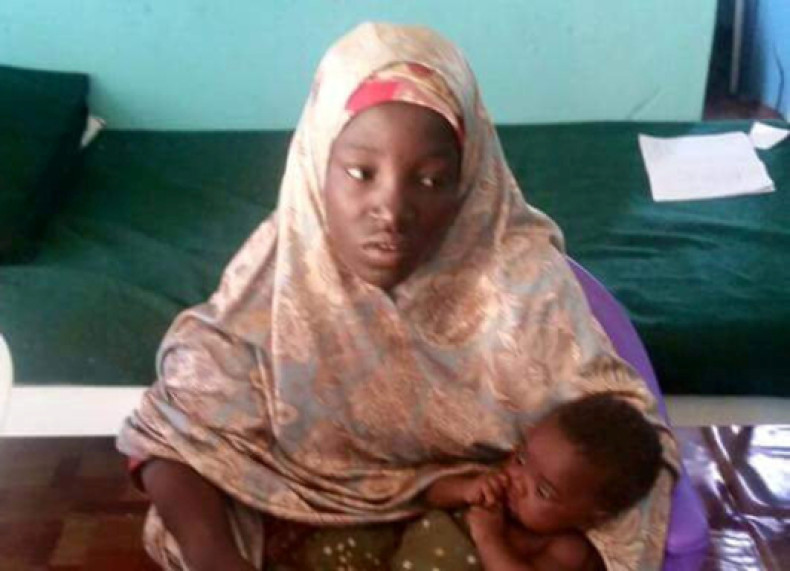 A girl freed more than two years after she was abducted by terror group Boko Haram has arrived at the presidential palace in the federal capital of Abuja, where she will meet President Muhammadu Buhari. Amina Ali,19, was rescued by a member of the army-backed vigilante group, Civilian Joint Task Force (JTF) in the Sambisa forest in Borno state, northeastern Nigeria.
Ali, from the Mbalala village, was found with a four-month-old baby. The army said in a statement the girl was rescued along with a man, Mohammed Hayatu, who claimed to be her husband. It is suspected Hayatu is a Boko Haram member.
Ali is one of the 219 schoolgirls kidnapped by the terrorists as they were attending evening school in the Chibok village on 14 April 2014. Shortly after the kidnap, reports emerged alleging that the girls had been sold as slaves, smuggled into neighbouring countries, or forced by terrorists to carry out suicide bombing missions.
Ali is the first Chibok girl to be rescued, amid reports the other schoolgirls could also be in the Sambisa forest, near the border with Cameroon.
Boko Haram's insurgency
Earlier in April, Boko Haram released a video purportedly showing 15 Chibok girls still alive. Although the Chibok abduction was not the first mass kidnapping carried out by the terrorists, it attracted international outrage and shone a spotlight on the deadly insurgency of Boko Haram that, until then, had remained under-reported.
Nigeria is leading a regional offensive with 8,700 troops from Niger, Chad, Cameroon and Benin ranged against Boko Haram. Although President Muhammadu Buhari declared a technical victory in the fight against the insurgents in December 2015, Boko Haram has been carrying out sporadic attacks across north-eastern Nigeria and neighbouring countries.
In the latest attack blamed on the group, two police officers were killed in a suicide bombing mission on 12 May in Borno state.The group, however, claimed at least 15 people were killed in the blast. On 15 May, the UK pledged £40m ($57.44m) to help Nigeria in the fight against Boko Haram during a regional security summit in Abuja.