A pro-Biafran activist who was arrested in London after he tried to confront Nigeria's President Muhammadu Buhari fears the Nigerian government will try to prosecute him for treason. Pro-Biafrans demand the independence of the Biafran territories forcibly annexed to Nigeria during British colonisation.
Immanuel Yaghozie, editor of Biafra 24, is among three pro-Biafran activists who were arrested in London on 12 May during a protest against Buhari, who was in the UK to attended an anti-corruption summit.
The demonstrators were arrested as they moved to confront Buhari, while his convoy approached the site of the protest, held near Buckingham Palace.
"We tried to confront him because corruption is not just about money embezzlement or misappropriation of funds, it has to do with [President Muhammadu] Buhari's disobedience to court orders. That is impunity," Yaghozie told IBTimes UK, referring to the fact that the Nigerian government has not released pro-Biafran leader Nnamdi Kanu, in spite of several court rulings in favour of a bail.
"This was our intention, to protest about all these issues. But police officers did not allow us to do that," he said and added people were also calling for the independence of Biafra.
While Yaghozie and Chikeluo Obuana were released the same night, the third activist, Onyinyechukwu Ezeosika, was sentenced to 12 weeks in jail by the Westminster magistrates' court for using "threatening words at the Nigerian President's motorcade," the court told IBTimes UK. Ezeosika pleaded not guilty.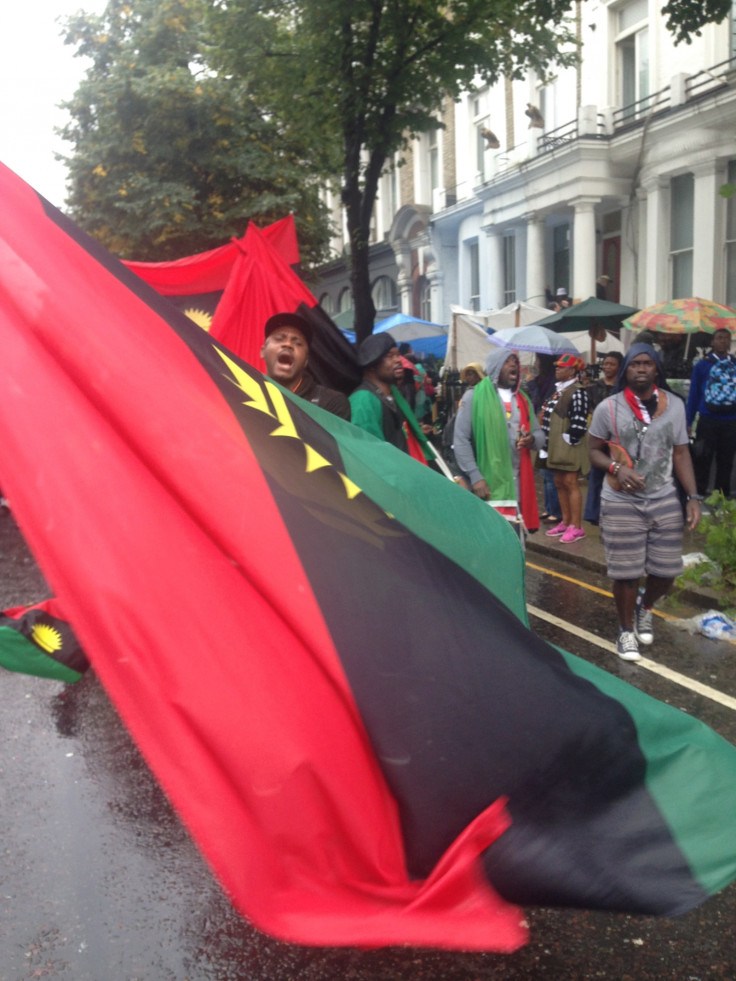 Treason
Yaghozie was released on bail and he is currently being investigated for "interfering with witnesses or otherwise obstructing the course of justice".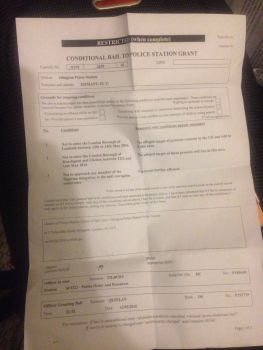 He fears that, should he be extradited to Nigeria, the Nigerian government will try him for treasonable felony and "attempting to dethrone the president".
"The Nigerian government accused me of operating an illegal radio. Biafra 24 is listed in the case of Nnamdi Kanu and I started this with him," he alleged. "I formed the 10,000-strong men battalion used to raise funds for the operation of the network and the prototype is mine. I am listed in [Kanu's] case and the Nigerian government would prosecute me as well, but I am not scared."
The Nigerian embassy in London has not replied to a request for comments on the allegations.
Nigeria's position on Biafra
A Biafran Republic was established in 1967 and reannexed to Nigeria in 1970, following a civil war that claimed between one and three million lives, mostly Biafrans.
The Nigerian government has always maintained that Nigeria's unity was a priority for the country and that although peaceful pro-Biafran protests were welcomed, demanding the breakaway of the Biafran territories was against the constitution.
"Some people who were not even born during the war are saying they want to divide Nigeria," Buhari explained during a speech at the Emir of Katsina's Palace, earlier in May. "I always say the civil war was fought for the unity of Nigeria because then we hadn't even discovered oil let alone enjoying it. But two million people were killed.
"The way the Sahara is advancing, with Boko Haram, growing numbers of people and uncertainty over rainfall, in a land where we fought civil war leading to the death of about two million, for someone to just say he will chase us out? So where do we go?"
Buhari also urged Nigerians to ignore groups agitating for a split and said leaders should work to promote peaceful co-existence in the country.
Earlier in March, the leader told Al Jazeera his country will "not tolerate" another independent Biafra and that his administration will not engage in a dialogue with pro-Biafran activists. "We have a democracy system now. Let them organise themselves and vote to have a state within a state," he argued.
---
Nigeria up close: Check out our Flipboard magazine
---