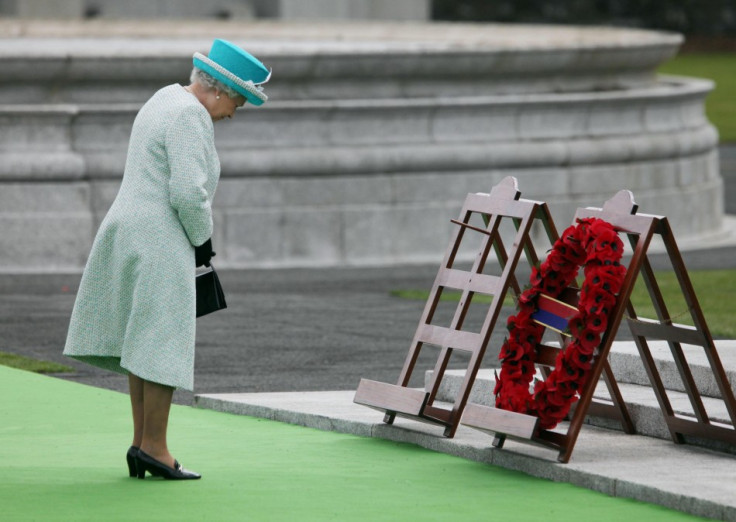 The Queen performed one of the most sensitive engagements of her trip to Ireland today when she stepped out onto the pitch of Ireland's Croke Park stadium, the scene of a massacre by British troops in 1920.
Eamon Gilmore, the Irish foreign affairs minister, said a British monarch visiting the site of November 1920's "Bloody Sunday" was a "hugely symbolic" moment.
He told the AFP news agency that the visit to the 82,300-capacity venue on Wednesday was "part of the making of a statement about the past".
Before her visit to the country's national stadium the Queen laid a wreath of poppies in honour of the nearly 50,000 Irish soldiers who died fighting for Britain in the First World War.
The Irish press hailed the decision, and the visit to Croke Park should reinforce that effect.
Croke Park, the home of Irish sports, is an iconic place for nationalists. During Ireland's war for independence in 1920, British troops machine-gunned the crowd in retaliation for the killing of 14 British intelligence officers the night before.
Fourteen civilians, one aged 10, were killed and "Bloody Sunday," a rallying cry for the nationalist cause, was born.
Even a few years ago, the presence of the Queen, the commander in chief of British armed forces, on such sacred nationalist turf would have been too much for many Irish people.
But the Good Friday Agreement in 1998 and David Cameron's apology for Northern Ireland's "Bloody Sunday" last year has paved the way for today's scenes.
The four-day state visit has been heavy with symbolism. Yesterday the Queen took to the spot where many leaders of the 1916 Rising were held overnight before being taken to Kilmainham Gaol. And this morning she visited the Guinness Brewery in central Dublin and was presented with the "perfect pint" of stout.
Bomb scare
The threat issued on Monday from militant nationalists means security around the Queen continues to be tight.
A heavy Irish police presence has had to deal with a number of security alerts and the army destroyed a makeshift bomb on a bus headed for Dublin late on Monday night.
Police arrested 21 people on Tuesday after a protest against the queen visiting Ireland's shrine to its nationalist heroes turned ugly with bricks, bottles and fireworks thrown at police.
Several hundred people took part in demonstrations on Tuesday that were condemned by the majority of Irish.