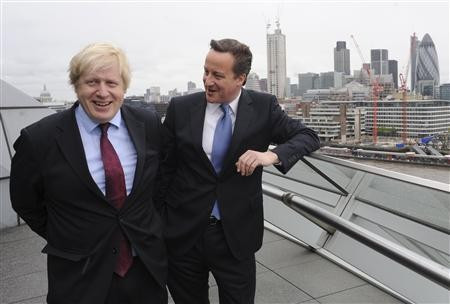 Boris Johnson has emerged as the favourite to succeed David Cameron as the leader of the Conservative party, according to a new poll.
The Mayor of London, whose profile has arguably been boosted by the 2012 London Olympic Games, was favoured by 32 percent of those polled by the ConservativeHome website for the Independent newspaper.
His nearest rival was foreign secretary William Hague with 24 percent and education secretary Michael Give on 19 percent.
George Osborne, who used to be seen as the natural successor to Cameron, received only 2 percent. A recent separate survey conducted by the Telegraph also found that Osborne was the cabinet minister most readers wanted to see lose his job.
The ConservativeHome survey suggests that Cameron's popularity among Tories is starting to dwindle, with just under half of voters believing he is the man who should lead the Conservatives at the next general election.
Osborne's disastrous budget
Johnson should lead the the party into the next election say 18 percent. Hague got 12 percent.
Osborne did not get a single vote following his disastrous budget and growing doubts about his economic strategy as the country has fallen into a double-dip recession.
ConservativeHome's Tim Montgomerie, who is also a columnist for the Times, said: "[Johnson] is a Eurosceptic who doesn't just love his country but loves its people too, whatever their politics, colour, religion or sexuality. David Cameron is comfortable with modern Britain too but, to adapt one of Mr Johnson's own expressions, Boris zoinks off the Geiger counter of positivity. He hugs the nation and smothers it with rhetorical kisses."
The poll says Tory voters are pessimistic about their chances at the next general election. A majority of 53 percent believe Labour will win compared with 47 percent for the Tories.
Only 1 percent of Tory voters said they want the coalition government to continue beyond the next election and 20 percent said it should end as soon as possible.
Around 41 percent of voters want Coalition to go shortly before the election so the two parties can set out their individual plans.
According to the latest Ipsos Mori poll, 44 percent of people would vote for Labour if there were an election tomorrow - the party's highest lead in the polls since Gordon Brown's brief honeymoon period in September 2007.