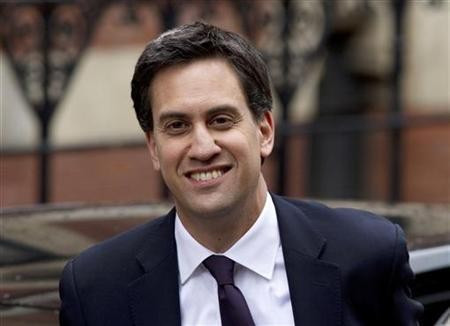 The coalition government's failure to deal with the economic crisis and inability to show a united front has given Labour their highest lead in an opinion poll since 2007.
According to the latest Ipsos Mori poll, 44 percent of people would vote for Labour if there were an election tomorrow - an increase of four percent on June and the highest lead in the polls since Gordon Brown's brief honeymoon period in September 2007.
Only 31 percent of people would vote Conservative, with public confidence in the government's ability to act in a crisis and deal with the economy effectively dwindling compared to 2011.
The poll recorded that 34 percent think the coalition is able to react quickly in a crisis against 55 percent who say it cannot - a reversal of results in April 2011 when 53 percent said the coalition would be able to act in a crisis.
Despite David Cameron and Nick Clegg's recent attempt to show unity, 52 percent of voters do not believe the coalition will last until 2015. That is down from 63 percent in May 2010.
Under two-fifths - 39 percent - believe the coalition is providing stable government - down from 53% in April 2011. Some 28 percent believe the coalition is dealing with the economic crisis effectively - less than half the figure recorded in May 2010.
Only 16 percent believe the economy will improve in the next year, down from the 29 percent who felt so before George Osborne's spring Budget. Almost half of those asked think things will get worse.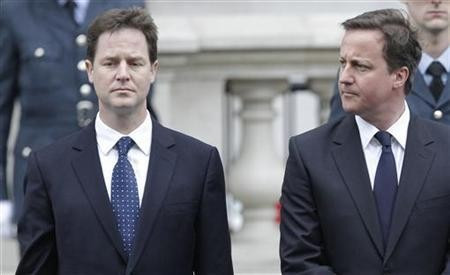 Satisfaction with Cameron has also fallen, with even his own supporters losing confidence in him. Thirty percent of Conservatives voters are unhappy with the prime minister - the highest number Ipsos Mori has recorded among his own supporters.
In total, 60 percent of voters are dissatisfied with Cameron's performance.
Around 33 percent said they are satisfied with Labour leader Ed Miliband - down two points - against 51 percent dissatisfied.
Gideon Skinner, head of political research at Ipsos Mori, said: "The arguments between the coalition partners are taking their toll, even among the parties' own voters who see it as stable but disunited, which may be why only half of them think it will survive to 2015.
"Alongside this, we've seen a softening of Conservative support as they become less certain to vote, although the underlying picture is similar to the last couple of months."
Ipsos Mori interviewed 1,006 adults across Britain by telephone, from 14 to 16 July.