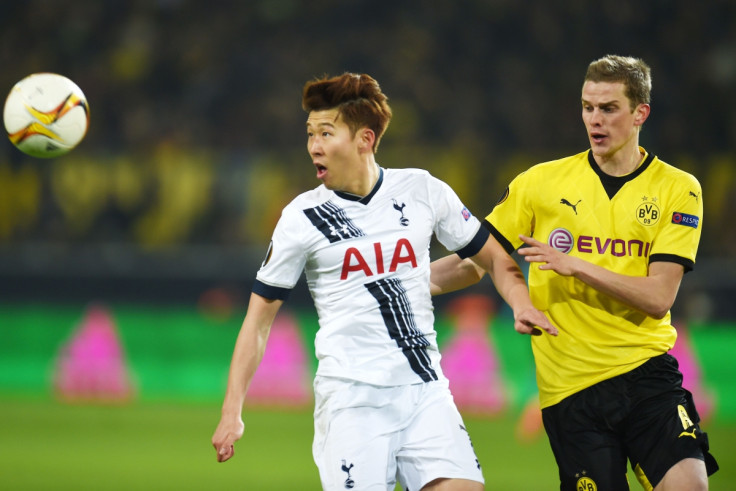 Tottenham Hotspur forward Heung-Min Son has revealed that he did not expect to lose by such a large margin against Borussia Dortmund after manager Mauricio Pochettino decided to make seven changes to the team which started against Arsenal at White Hart Lane. Tottenham lost the game 3-0 after Pochettino decided to rest Harry Kane and Erik Lamela for the fixture and have their job cut out when the duo meet each other for the second leg next week.
Son made his first start for Spurs after quite some time against Dortmund but found it difficult to restrict the Bundesliga club, who started the game on the front foot and were unlucky to go into the half-time break with the scores level. However, they came back stronger and opened the scores through Pierre Emerick Aubameyang, before Marco Reus came to the party to score a quickfire brace to put the tie out of reach for the north London club.
Kane came on to the pitch in the 76th minute but was unable to make a case for himself as Spurs look to tide over a disappointing spell of results over the course of the last month. Tottenham have managed only two wins in their last seven games in all competitions but have to get their bearings back against Aston Villa this weekend, if they have to harbour hopes of winning the title, which is ostensibly Pochettino's main target for this season.
"We are very sad of course," Son told Goal. "We did not think that we would lose by such a high margin. In the dressing room it was very quiet, but Dortmund were very good. Now we have to think about and prepare for the next match."
"I don't know why it didn't work out. But all of our players have quality and the coach has decided to rotate," he added. "I don't think that the reason is the league, but the fact that he wanted to give a chance to other players who work always very well."