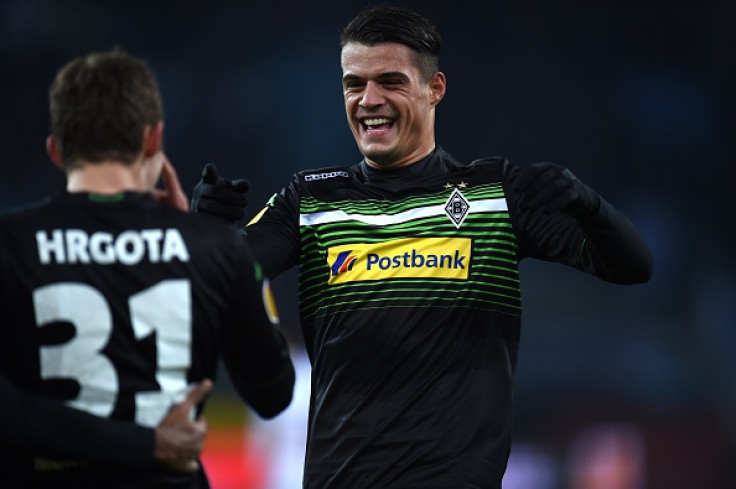 Borussia Monchengladbach midfielder Granit Xhaka has admitted that it will be difficult to turn down an opportunity to play in the Premier League with Manchester City after revealing that his childhood dream has been to play in the English top-flight. The Switzerland international is highly coveted following his impressive performances in the Bundesliga and has attracted the attention of a number of clubs in England.
According to German daily Bild, the Etihad Stadium outfit, who will be managed by Pep Guardiola from next season, have already made an approach for the midfielder, with the report claiming that the cash-rich club have offered €50m (£38.8m, $55.6m) to bring him to the Premier League. Apart from City, Premier League rivals Arsenal and Liverpool have been linked with moves for the midfielder, with the former expected to make a move in the summer as well as Arsene Wenger plans an overhaul of his midfield.
Monchengladbach president has already admitted that Xhaka could be sold in the summer, and with City entering the fray, a bidding war could ensue. The Swiss midfielder is open to a move to the Premier League in the future, but has made it clear that he has not agreed a deal with any club regarding a move to England. The 24-year-old has ruled out a move to China in the foreseeable future despite the large amounts of money being bandied around by the Chinese Super League clubs. Ezequiel Lavezzi, Jackson Martinez and Ramires have all swapped Europe for the Far East in recent weeks and a few more could join them before their transfer window shuts on 26 February.
"I think everybody has a dream. Everybody has a childhood dream and that's my childhood dream. If my dream comes true, it remains to be seen. At the moment I cannot say how realistic it is," Xhaka said, as quoted by the Daily Mail.
"And should I one day want to make the next step, it also has to be an improvement. But true, it's difficult to say no when Manchester City want you and you could play there. That much I have to admit. But I'm certainly not the only one," the former FC Basel midfielder added.
"I can only speak for myself, but at my age I would never go to China, for no money in the world. The sporting perspective and everything else would need to be right. Honestly, you want experience such a positive vibe, such a togetherness in football often. That counts too."