Look around any aeroplane cabin and you will see Bose noise-cancelling headphones on nearly every row. The current model is the QuietComfort 25 and they are so good that just a few seconds of trying them out at an airport was enough to make me hand over $300 (£225, €271). The noise-cancelling technology is simply outstanding, as the headphones literally create silence and block out almost all sound, especially constant hums like that of a commercial jet.
---
But now there is an even better pair of Bose noise-cancelling headphones. Where before Bose fans had to choose between noise cancelling and Bluetooth, they now get their cake and eat it. Step forward the QuietComfort 35, a pair of wireless noise-cancelling headphones which must surely be the most important gadget to take on a plane this summer.
Putting on the QC35s, I already knew what to expect. Almost six months after buying a pair of QC25s, I still get a little pang of excitement every time I switch on the noise cancelling.
I even switch it on and off while on a train, just to remind myself how shockingly good the headphones are at producing silence, which is done by monitoring external sound with microphones, then playing the opposite into your ears. Yes, it is basically black magic.
Getting to the silence-y goodness takes slightly longer with the QC35s, as their Bluetooth connection requires setting up. Thankfully this involves little more than a press of a button until my iPhone finds them and connects. I'm then prompted to download the Bose Connect app to manage the headphones; this isn't necessary but acts as a handy place to check the battery level, install software updates and manage which devices the headphones will automatically connect to.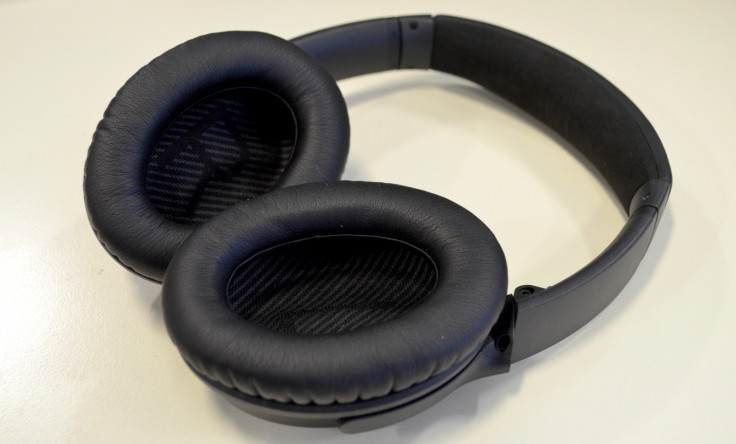 The headphones can be connected to two devices at once, which can be switched between in the app. Pairing with an Android is even easier, as the headphones have NFC so you only need to tap your phone against them and you're done.
Once all set up, switching the headphones on prompts them to connect instantly to the device you last used them with. This is followed by a voice telling you the remaining battery life and what Bluetooth devices they are connected to. Now you need never fiddle with them again; just switch on and go.
Visually, the headphones are almost identical to their wired predecessors, a feat some other headphones in this sector have failed to achieve when replacing a cable with batteries. The QC35s are slightly more bulky and a touch heavier, but unless you wore both pairs back-to-back you'd never know.
Music playback controls previously fitted to the cable have moved to the lower edge of the right speaker.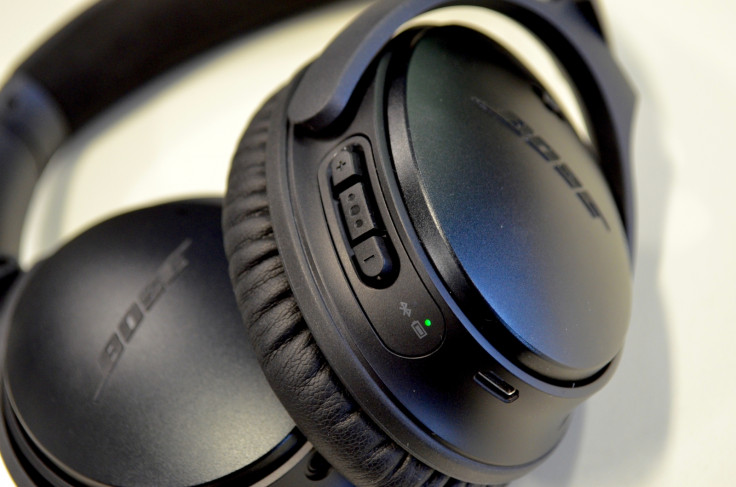 Generous cushions and a faux-leather finish make the earphones very comfortable to use for long periods of time, although after a few hours' use on a warm sunny day you'll want to give your ears and face some fresh air. Most of the time, however, they are so comfy you forget you're even wearing them.
Sound quality is excellent. Where previous Bose products could be criticised for overly-heavy bass, these headphones are restrained in that regard and offer a full and rich sound which is strong when it needs to be, but also delicate and complex. There's no need to think sound quality takes second place to noise cancelling, because in truth they are equally good and work together to produce something truly great.
However, the Bluetooth connected can cause some minor issues. Attaching the included audio cable improved quality ever-so-slightly, with a stronger bass and more consistent sound, but I'm splitting hairs here.
Should QC25 owners upgrade?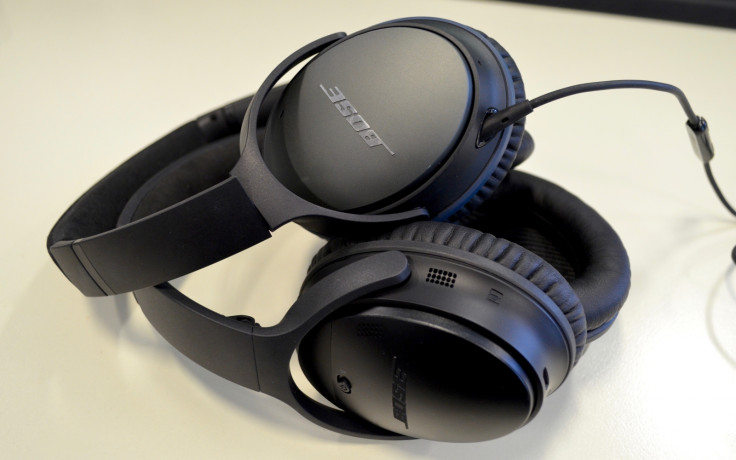 It may seem like a small thing, but removing the wire has made a big difference. I love not having to keep my phone close by while listening to music at my desk; there's no need to tuck the cable into my clothes; there isn't a cable to catch on things, and there's no more muffled noises when it does eventually snag on something.
Downsides? The Bluetooth connection would sometimes falter, most often when the iPhone was receiving a notification and pinging it back out to my Apple Watch, or when overloaded doing something else, but over a two-week test I could count these instances on one hand. The QC35's use of an integrated, rechargeable battery makes the QC25's use of a AAA battery feel ancient. Bose claims battery life is 20 hours, which feels about right to me; it will last even longer if you decide to ignore the Bluetooth and plug in a headphone cable, but there's really no point unless you're out of charge, or on a plane which doesn't allow Bluetooth on takeoff and landing.
Our verdict
Rarely do I feel like I actually need any of the products I review. A fast car would be nice on weekends, a massive iPad would be fun for a while; but these headphones are different. I can't shake the feeling of absolutely needing them in my life. The noise cancelling makes everything better, it makes plane travel less tiring, rush-hour commuting less invasive, and it's just a brilliant piece of technology perfectly executed.
Spending £290 on a pair of headphones will no doubt sound like madness to anyone used to the free ones that come with an iPhone, but I can't emphasis enough just how much better your music will sound at this price range. And with the QC35s you get wireless freedom and noise-cancelled comfort thrown into the deal. Sometimes I'd use the headphones without any music, just to enjoy the silent bubble of calm they create around me.
I very rarely hand out five-star reviews, but the QC35 are an exception. They're so good, I'm going to put my wired pair on eBay and upgrade immediately.