Forget about four-legged running robots – Boston Dynamics has unveiled a video showing a new humanoid robot named Atlas that is able to walk and run outdoors and even scramble over rocks. At the 11th Fab Lab Conference and Symposium organised by the Massachusetts Institute of Technology (MIT) Center for Bits and Atoms on 3 August in Cambridge, Massachusetts, Boston Dynamics founder Marc Raibert presented video footage of a new humanoid robot the firm has been working on.
Unlike its previous four-legged robots, which include the Darpa-funded rough-terrain robot BigDog, its younger brother Spot the Dog and Cheetah, the world's reigning fastest legged robot, the new Atlas robot is humanoid and has two legs, making it bipedal instead of quadrupedal.
It is much harder to make bipedal robots move effectively and maintain their balance without help, as they have a higher centre of gravity and the mechanics required to lift jointed legs up in the air are complex.
Yet in the video, Atlas is seen being able to carefully step, navigate and maintain its balance while walking over a large surface area entirely composed of rocks in a laboratory. And if that isn't enough, the roboticists also decided to take Atlas outside, where the robot is amazingly able to walk and run through uneven terrain in the woods.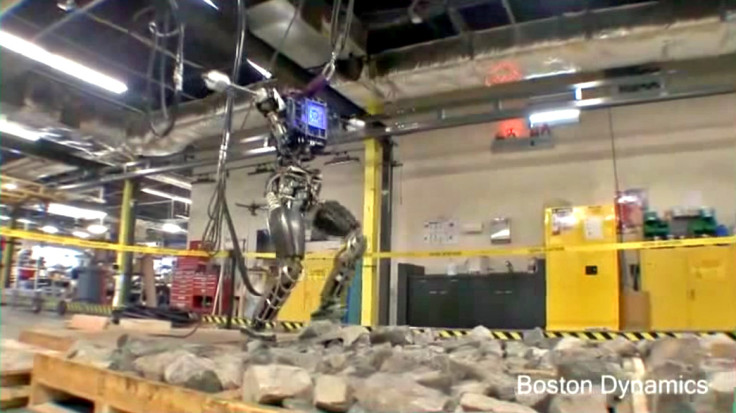 Nevertheless, the Atlas robot is not completely autonomous and still has to be tethered to a power cable, and Railbert said that the next step was to test a new version of the robot that walked on its own with no cables or support beams in place. "We're interested to get this robot out into the world. Out in the world is just a totally different challenge than in the lab. You can't predict what it's going to be like," he said in the video.
"All kinds of stuff happens out there and we're making pretty good progress in making it so it has mobility that's sort of within shooting range of yours. I'm not saying it can do everything you can do, but you can imagine that if we keep pushing, we'll get there."
Boston Dynamics was spun off from MIT in 1992 and is best-known for its work on the BigDog quadrupedal robot, which was developed to be a pack mule for soldiers venturing into terrain that is too difficult for vehicles to cope with.
In December 2013, the firm was acquired by Google and is now part of Google X Labs, the top-secret department devoted to new innovations.
At the moment, the world's most famous bipedal robot is the Honda ASIMO, which was successfully demonstrated to be able to jump up and down and kick a football back and forth with President Obama in April 2014.
The US Navy has also invented a human-sized bipedal firefighter robot which is able to walk, climb, open doors and navigate obstacles in a warship, following commands issued by people remotely at a computer console.