President Barack Obama has matched football skills against a humanoid robot while touring the Miraikan Science Expo in Tokyo.
Honda Motor's humanoid robot Advanced Step in Innovative Mobility (Asimo) spent a few minutes with the president, jumping up and down and kicking a football back and forth with him.
Obama declared that Asimo's soccer skills were pretty impressive, but after he finished touring the Miraikan Museum, he told students that "the robots were a little scary".
"They were too lifelike," he said.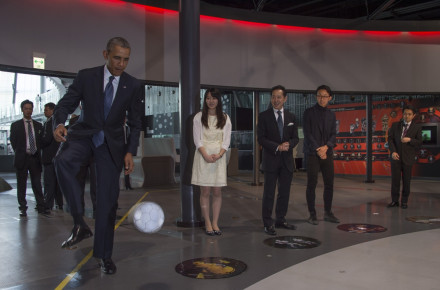 The president made it clear that investing in maths and science programmes was paramount and had contributed to both Japan and the US being on the cutting edge of innovation.
"Young people like you have more technology and more power than even the greatest innovators of previous generations, so there is no limit to what you can achieve," Obama said.
"Gambatte kudasai," he told them, a phrase that roughly translates as "Give it your best".
He encouraged the group of students he met to visit the US and touted the joint effort of the two countries to increase student exchanges.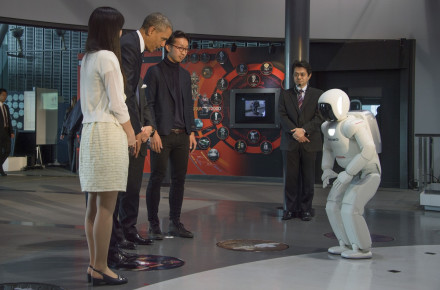 Obama is on a week-long tour of Asia that includes South Korea, Malaysia and the Philippines. It is aimed in part at reassuring its allies in the region of continued US support in the face of disputes and threats from China and North Korea.
Obama's first stop on the trip was Tokyo. As part of his state visit to Japan, he was scheduled to meet the Japanese royal family, visit the Meiji Shrine in Shibuya and attend an official state dinner.
Obama surprised analysts by reassuring Japanese prime minister Shinzo Abe that he would support Japan in its bitter territorial dispute with China over the Senkaku Islands, known in China as the Diaoyu Islands.
While the president emphasised that Washington would not take sides in the sovereignty dispute and called for the two nations to settle their differences through dialogue, he did specifically state that the islands fall within the treaty which obliges the US to defend Japan if attacked.
"Let me reiterate that our treaty commitment to Japan's security is absolute, and Article 5 covers all territories under Japan's administration, including the Senkaku Islands," he said.