This year promises to be a defining one for boxing. Inevitable complications heightened by the politics and money in the sport assure nothing is certain, especially at this stage of the year, but with so many rivalries edging ever closer to a crescendo, there is reason enough to be a little excited.
Floyd Mayweather v Manny Pacquiao
There was only one prospective fight that was going to top this list. A showdown between the welterweight kings has remained in the realms of fantasy for the past six years but, without tempting fate, 2015 looks promising.
Having been accused of shirking the challenge of the man who provides the biggest threat to his spotless record, Mayweather broke his silence in December when he called out 36-year-old Pacquiao for what is likely to be the richest fight in boxing history.
Demands for Olympic-style blood tests, tired excuses from both camps and disagreements over the split of the purse have prevented their meeting from taking place in the past. But with both fighters in the twilight of their careers – with Mayweather specifically pondering retirement in September – 2015 is truly "now or never" territory for the two giants of the sport to collide in the ring.
Floyd Mayweather v Amir Khan
Of course, if that does not go to plan, Mayweather will have no shortage of alternatives looking to dethrone him. Amir Khan appeared favourite to secure a meeting with the 37-year-old in May 2014, only to be overlooked in favour of Marcos Maidana. Having only moved into the welterweight division last year, Khan recorded dominant wins over Luis Collazo and Devon Alexander to ensure he remains firmly at the head of the chasing pack.
Mayweather's reservations over whether Khan's name can sufficiently dominate the box office stateside are likely to play a pivotal factor, though. But those doubts have done little to temper Khan's ambition.
Miguel Cotto v Saul 'Canelo' Alvarez
This is one of the fights that looks almost certain to take place in 2015. Cotto v Alvarez fits the narrative of old pro v young lion – 10 years separate the two – with the compelling subplot that comes with the classic Mexico v Puerto Rico showdown.
Two of the most popular fighters out there, Cotto v Alavarez should to be the second most lucrative fight of the year if Mayweather v Pacquiao goes ahead but fans may have to wait until the second half of the year to see it happen.
Canelo has been adamant for this fight to take place on 2 May, a date falling during the Mexican holiday period of Cinco de Mayo (which occurs on 5 May). The problem? That is the date touted for Mayweather v Pacquiao and there is nothing that will disrupt those plans if that is what everyone agrees on.
Amir Khan v Kell Brook
Kell Brook's IBF title victory over Shawn Porter –where he became the first Brit to win a world title stateside in 28 years – not only propelled him into the elite of the welterweight division, it also made the prospect of an eagerly awaited meeting with Khan an inevitably.
No sooner was Brook back in the UK, Eddie Hearn was making predictions of a summer showdown between the long-term rivals. Those plans appeared to be derailed after the Sheffield fighter was stabbed while on holiday last August, but having recently confirmed his return to the ring and first title defence for March, a meeting with Khan later in the year is an enthralling possibility.
James DeGale v George Groves
With Carl Froch not willing to "get out of bed" to fight James DeGale, a rematch for the latter with George Groves seems the logical alternative. It was Groves who inflicted the first defeat of DeGale's career - and only to date - on a controversial points decision in 2011, something the Harlesden-born fighter has never been able to let go.
In becoming the first man to stop Marco Antonio Periban within the distance in November 2014, DeGale reinforced his status as a genuine contender with a vacant world title fight on the horizon should Froch continue to ignore his challenge. Groves, who put his two defeats to the Nottingham-born fighter behind him with victory on the same card, could meet him in that fight.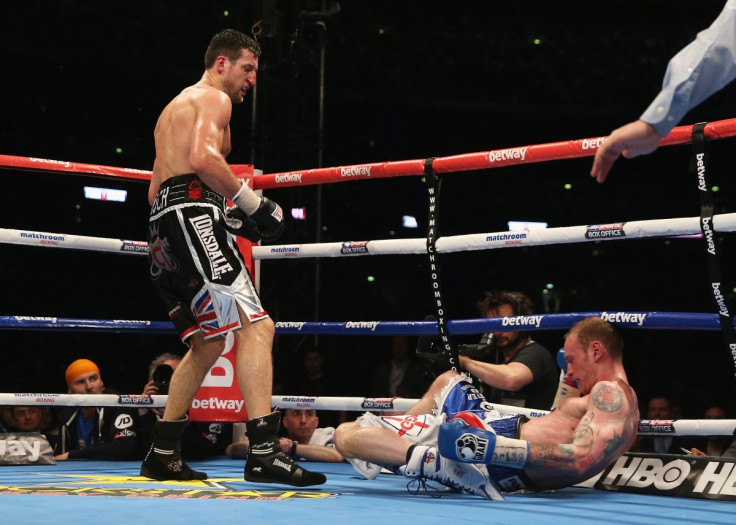 Carl Froch v Julio Cesar Chavez
The man who provided the most iconic moment in British boxing from 2014 admits he could quite happily retire this year. But Carl Froch still has one lingering career goal, a glamour showdown in Las Vegas, the fight capital of the world.
The reigning IBF and WBA super middleweight champion recently revealed a deal is close for a meeting with Julio Cesar Chavez Jr, a man who has lost just once in his 41 professional matches. It will be a fitting final test for the veteran middleweight and a decent send-off should he prevail.
Carl Frampton v Scott Quigg
While Leo Santa Cruz also beckons for Frampton, a meeting with Scott Quigg remains a constant fixture in lists such as these. Frampton's 2014 saw him overcome the challenges of Hugo Cazares and Kiko Martinez, beating the Spaniard to win the IBF title in Belfast. Quigg, meanwhile, extended his record to 30-0 with another three victories, the last of which coming against Hidenori Otake in Liverpool in November.
While both super-bantamweights are eager to meet, politics and scheduling conflicts have hindered the seemingly simple procedure of getting two men who want to fight each other in the ring, while injury has also complicated matters. After tearing tendons in his right hand during his win over Otake, Quigg will not be able to compete again until the summer. The Bury-born fighter is unlikely to make his return fight a showdown with Frampton, suggesting this particular meeting may feature on our 2016 list too.
Andy Lee v Billy Joe Saunders
After becoming the first man from the Traveller community to lift a world title following his victory over Matt Korobov of Russia, WBO middleweight champion Andy Lee has already welcomed the possibility of a first title defence coming against Billy Joe Saunders.
The undefeated 25-year-old, another who has roots entrenched in Britain's Travelling community, brought the curtain down on his simmering feud with Chris Eubank Jr in November in style to earn his first title shot and a meeting with Lee in what will be a historic first all-Traveller world title match likely for March, either in London or Dublin.