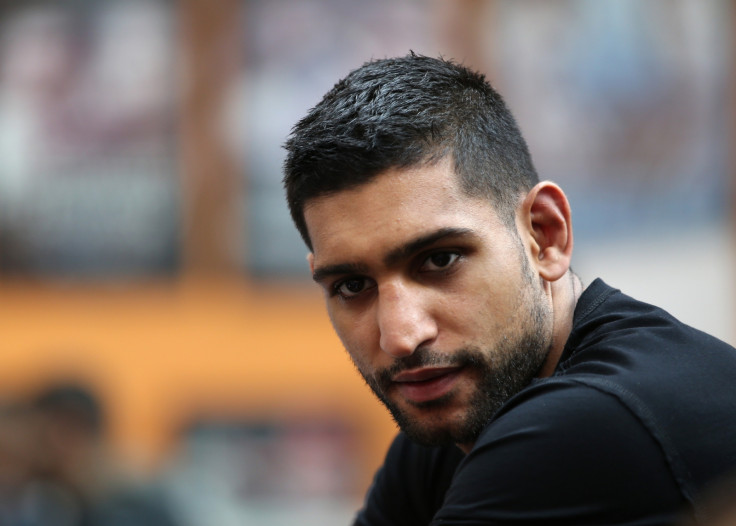 Amir Khan has accused Floyd Mayweather Jr of ducking his challenge and has hinted he will now pursue a meeting with Manny Pacquiao instead.
Khan, 27, was firmly in the running for a fight with the five weight world champion in May 2014 only to be overlooked in favour of Marcos Maidana.
The Bolton-born fighter has since recorded convincing victories over Luis Collazo and Devon Alexander, only for Mayweather to recently dismiss his challenge, telling reporters Khan's name doesn't 'hold enough weight' because 'no one has heard' of the Brit.
With the Mayweather fight seemingly slipping away, Khan turned to Twitter on Wednesday to throw forward the idea of a showdown with WBO champion Pacquiao.
"Who wants to see Khan v Pacquiao because I know Mayweather is running," Khan said to his 1.54m followers.
Khan and Pacquiao were frequent sparring partners during the Brit's time working with Freddie Roach before leaving to link up with Virgil Hunter. Recalling those gym sessions in November last year, Roach saw little reason to get excited over a potential Pacquiao v Khan showdown, predicting a one sided outcome in the favour of the Filipino fighter.
"Who cares? Amir Khan, [Pacquiao] knocked him out in the gym. It's no big fight," Roach told Boxing Scene. "He had Amir down at least four times."
Khan may have to wait for his chance to step in the ring with Pacquiao however. Hope of a long awaited showdown between the 35-year-old and Mayweather gained significant momentum late last year with talks now underway over a fight that is likely to be the richest in boxing history in May.
Khan will have no shortage of offers should a meeting with one of the duo pass him by with Timothy Bradley recently urging the Brit to step in the ring with him.
A meeting with long-time adversary and IBF world champion Kell Brook is also on the horizon.