Audley Harrison believes he knows exactly how his professional career will end, and that is with him having won a version of the world heavyweight title.
The former Olympic gold medallist was picked out as a future star of the heavyweight division when he choose to join the professional ranks but he has thus far failed to live up to his potential.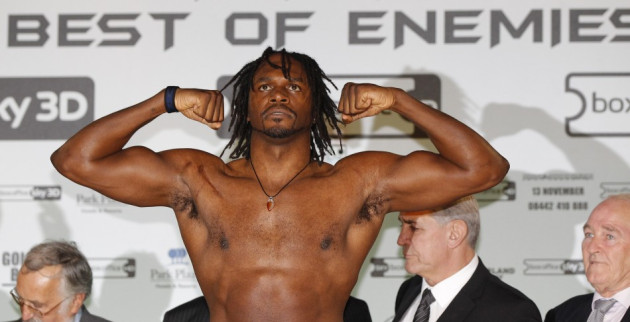 Despite suffering six losses during his 12 year pro career, the last a devastating first round loss to David Price, Harrison has always managed to bounce back and this time responded by winning the Prizefighter series for the second time.
This helped the 41-year-old secure an exciting contest with undefeated American prospect Deontay Wilder who has won all 27 of his bouts by knockout.
While many feel Harrison will never fulfil his early promise, Harrison believes his professional career is merely mirroring his amateur days when he suffered numerous setbacks before eventually claiming the ultimate prize at the Sydney Olympics in 2000.
"I am probably down as one of Britain's best-ever amateur boxers - Olympic gold, Commonwealth gold, two-time amateur champion - but there was so much failure in that process," declared Harrison.
"It is the process of learning. When you lose you learn lessons and you come back. My professional career has mirrored my amateur career, so I know how it is going to end.
"They say God gives the biggest burdens to those who can endure. Obviously I was strong enough to go through that journey.
"There is no doubt in my mind. Some of you will say, 'He is crazy, he is delusional' but there is no doubt in my mind. Losing is all part of the journey.
"It has been a long struggle for me to get back here. In 2004 I fell out of love for boxing. I lost control of myself. It has been a long journey to get back to where I am today, in control of myself."
Despite Wilder's impressive record, some feel that he remains untested and that Harrison will present his first real test.
The Londoner has previously sparred Wilder and, while admitting he is friends with his fellow heavyweight, made it clear that he needs to defeat the American to remain in with a chance of winning a world title.
"I have got a lot of love for Deontay," added Harrison. "It is nothing personal, this is strictly business. It is a shame it is Deontay I am going to have to go through to my goal, but that is