Eddie Hearn has stated that Kell Brook has been "crushed" by the news that he may have lost his shot at the IBF world title after Floyd Mayweather suggested that it would be him fighting current champion Devon Alexander.
Earlier this week it was revealed that Alexander had picked up a bicep injury that had caused the February 23 bout to be postponed, but now there are question marks over how serious the injury really is.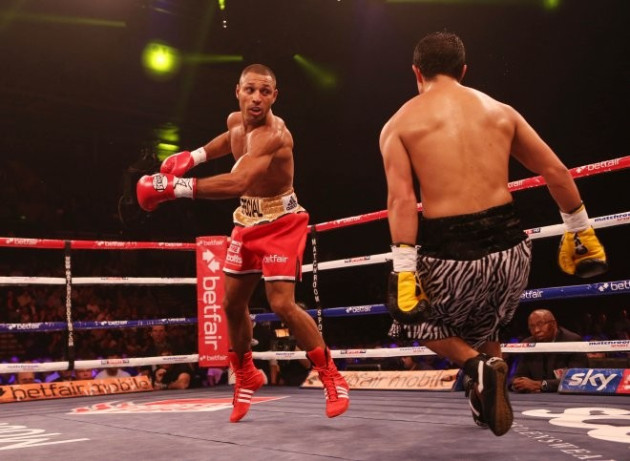 Mayweather suggested that Alexander was now the favourite to face him in Las Vegas on May 4, ruling out the possibility of Brook facing the IBF champion in the coming months.
"The negotiations for my fight are almost done. The front runner is IBF Champion Devon Alexander. It'd be a unification bout at welterweight," tweeted Mayweather.
Should Alexander want to get out of his proposed bout with Brook then it would seem that he would have to vacate his title as the fight contract had already been signed.
However, Hearn admitted that he was confident that he could still deliver a world title opportunity for the Sheffield fighter, it just may not be against Alexander.
"The news had crushed him [Brook] but he's buoyant and I have told him he's got to keep his head down and keep grafting because you're going to get some news in the next 24 to 48 hours," Hearn told Sky Sports News.
"If they don't want the fight, they don't want the fight. What I won't let happen is rob the career path of Kell Brook and I'll fight tooth and nail to get justice for Kell.
"If that means putting the pressure on to get Alexander to vacate the title or Golden Boy [the American's promoters] come back this week and give us a date - which I think is the more likely scenario, then we will make sure that happens because I won't have Kell messed around.
"If I were having a punt I think it will go ahead. The whole thing looks a little bit cheesy to me and a little bit fishy from the Mayweather camp.
"But you never know, this is boxing and you have got to stay on your guard and things change every time you go to sleep, you wake up and something else has happened. It's like a constant chess match and we have got to make sure we have got our pawns in the right positions."