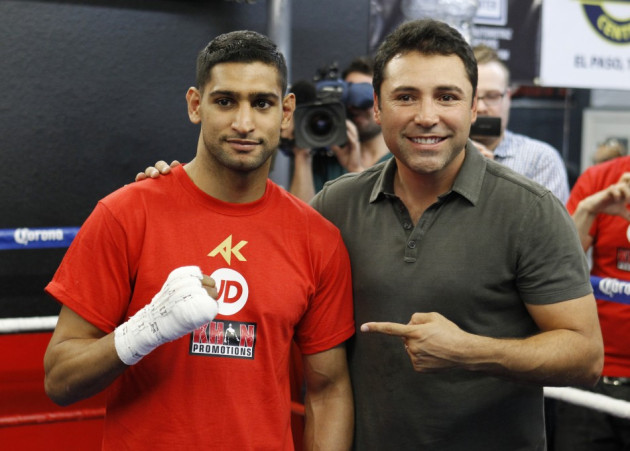 With just a matter of days before Amir Khan fights on home shores for the first time in two years, the same old rhetoric was once again being delivered at the final press conference. The former WBA and IBF light-welterweight champion has maintained that he will not look past Julio Diaz but the truth remains that Khan has bigger fish to fry.
Golden Boy Promotions are doing all they can to make sure that Khan will have an opportunity to unify the 140lb division. Despite defeats to Lamont Peterson and Danny Garcia, they have stuck by their man and are determined to give him the easiest possible route to success.
Should Khan dispatch Diaz, as we all believe he will, then he can sit back, relax and watch the rest of the division battle it out. Peterson is due to fight the dangerous Lucas Matthyse while Garcia meets Zab Judah and if all goes to plan then the winners of these contest will face each other later this year.
While these intriguing fights take place, Khan is safe in the knowledge that he has been guaranteed a shot at the eventual winner where he will have the chance to win the WBC, WBA and IBF titles.
Khan knows he is in a fortunate position but first he must make sure that he impresses on his homecoming. While Diaz is not a dangerous puncher, and cannot boast a particularly impressive record, it would be a nightmare if he took the Brit into the later rounds and was even close to him on the scorecards.
Khan said he felt this fight would "straight away elevate me back into world title fights" and while he is right, there is also the need to look exceptional while winning.
Question marks remain over his defensive skills and whether he can make the decision not to engage when hurt, despite his heart telling him to prove his metal. But what is undoubtedly true, is that Khan possess extraordinary hand speed and a frightening array of shots.
If he can dismiss Diaz in emphatic fashion then we will all look forward to seeing if he can regain his titles and then be a threat in the welterweight division.
Intriguing undercard
While Khan is looking to get his career back on the track, it is last chance saloon for another former amateur star as Audley Harrison looks to derail the career of exciting American heavyweight Deontay Wilder.
Harrison knows this is the last chance to prove that he belongs among the world's elite while Wilder is looking to prove that he is the real deal and can become the next great American heavyweight.
"I have mad respect for Audley Harrison. He's like a big brother to me but this is business. I'm trying to get to the top. I've been given the nickname 'knockout King' and I want to keep it. I'm lean and mean, I'm slick and on Saturday you'll see," stated a confident Wilder.
While Harrison responded, saying: "I know Wilder is dangerous and I respect him as a rising star but I'm back. It's taken me a long time to get back to where I am today. I fell out of love w boxing but I am most definitely back!"
There's also a chance to see the next generation of British stars with Haroon Khan - Amir's younger brother - and Anthony Ogogo making their professional debuts.
Ogogo was one of the stars of the London Olympics and is hoping to carve out a successful career in the middleweight division.
"I'm thrilled to be making my debut on such a brilliant card. Sitting next to Audley Harrison and Amir Khan, it's surreal," said Ogogo. "I've been training real hard and I'm really looking forward to making a big splash on my debut."