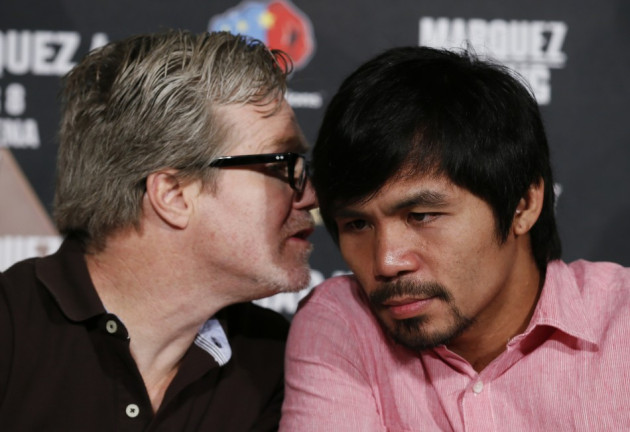 Manny Pacquiao's hugely successful career will be over if he is knocked out by Brandon Rios in Macau, claimed his trainer Freddie Roach.
The 34 year old will return to the ring for the first time since he was brutally stopped by Juan Manuel Marquez in December 2012 when he faces another hard hitting Mexican in Rios.
Pacquiao was left motionless for several minutes after taking a massive right hand from Marquez, with some questioning whether he would ever climb back inside the ropes after falling to his second consecutive defeat.
While the loss to Tim Bradley was deemed controversial, Marquez delivered an emphatic ending that led many to believe that Pacquiao would quit the ring to concentrate on his burgeoning political career.
However, he announced his comeback earlier this year and will face former WBA lightweight champion Rios on 23 November.
While Pacquiao will be confident of getting his career back on track, Roach has revealed that it could be his last fight. Asked what would happen if he was knocked out once again, he told Yahoo Sports: "It's over, 100%.
"We have a deal - when I tell him it's over, he'll say it's over, and that's it. He's pretty loyal with his words and if that happens, it will be the end."
While Roach admits it could be the final time the pair work together, he made it clear that Pacquiao is still looking as sharp as ever in training.
"The thing is, people look at the losses and they think the reason is that he's getting old. That's not the case, not from what I see," added Roach.
"Look, we all thought he beat Bradley, so throw that out. And in that Marquez fight, I thought he was doing well and was looking like he was going to win by knockout when he made a mistake and ran into a shot."
Roach was equally emphatic when quizzed on whether there were any signs that the Filipino legend's skills were fading.
"None whatsoever," insisted the highly respected trainer. "I'd tell you if I did. The minute I think he doesn't have it, when I see that he's not the Manny Pacquiao of old, I'll tell him that's it."