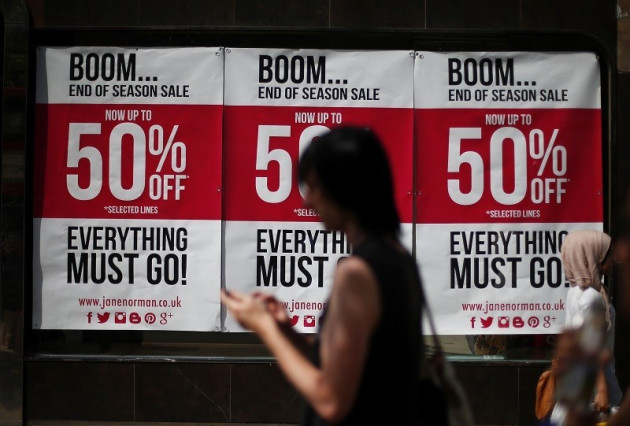 Shop prices in the UK declined annually for the sixth consecutive month in October, as consumers remain reluctant to spend despite better economic outlook.
The British Retail Consortium (BRC) said the UK shop prices declined 0.5% on year in October, compared to a 0.2% decline in September.
Food price inflation slowed to 2.7% in October from 2.9% in September, while non-food reported annual deflation of 2.4% in October from 2.0% in September.
BRC director general Helen Dickinson said in a statement that shop price inflation again matched the record low witnessed in July and August, marking the highest October deflation rate since the survey began.
"Non-food prices fell further during the month, mainly driven by promotions on clothing and the 'Super Thursday' effect of widespread offers on the new books launched in good time for Christmas," she said.
"Value was also a mainstay across the electricals category, as retailers competed to cater for strong pre-Christmas demand for gadgets and games while also paving the way for new releases still to come," she added.
Dickinson noted that the fall in food inflation was primarily due to lower prices of ambient goods and stable prices for fresh produce.
Lacklustre Consumer Spending
The financial crisis in Europe had affected the UK economy and its retail sector. Low wage growth and widespread austerity measures dented consumers' ability to spend.
Experts say that the recent economic recovery and better growth outlook is not translating into better consumer spending.
"Despite the slightly more optimistic economic outlook, across the industry we are seeing that consumers are still reluctant, unwilling or, in some cases, unable to increase spend," said Mike Watkins, head of retailer and business insight at Nielsen, which assists the BRC in the survey.
"So retailers are working hard to stimulate demand and it's of no surprise to see another slowing of shop price inflation, with further deflation in non-food."
Christmas Season
BRC expects that the upcoming Christmas season would help retailers as consumers are likely to increase their spending.
"With Christmas fast approaching, there are good signs that budgets will go a little bit further for many of us this year," according to Dickinson.
Furthermore, deep discounts and promotional sales during the season are expected to help consumers who are wary to spend.
"An increase in promotional spend by food retailers, which will offer cash-strapped consumers further savings ahead of December," Watkins said.