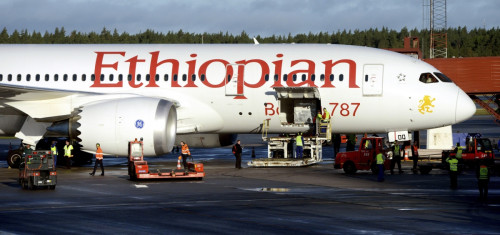 The hijacker who diverted the Rome-bound Ethiopian Airlines plane to the Swiss city of Geneva has been arrested and all passengers and airport crew are safe.
The news was broken by Bertrand Stampfli, spokesperson at the Geneva international airport, who also said the airport will remain shut until further notice, according to the local Tribune de Geneva.
The police have confirmed the arrest of the hijacker.
The passenger jet ET702 was "forced to surrender" after an apparent hijack attempt, said the airlines.
An Ethiopian Airlines statement said: "Ethiopian Airlines flight ET-702 on scheduled service departing from Addis Ababa on 17 February 2014 at 00:30 [local time] scheduled to arrive in Rome at 04:40 [local time] was forced to proceed to Geneva Airport.
"Accordingly, the flight has landed safely at Geneva Airport. All passengers and crew are safe at Geneva Airport.
"Ethiopian Airlines is making immediate arrangements to fly its esteemed customers on board the flight to their intended destinations."
It is still unclear who seized the plane or their demands.
Reports suggest the jet was circling over the Swiss city before it was forced to land at the airport.