Health officials in the USA have diagnosed a first case of the deadly Ebola virus, it has been announced by the Centers for Disease Control and Prevention (CDC). The victim was infected in Liberia and travelled to Texas, where he displayed symptoms of the virus and was taken to Texas Health Presbyterian Hospital in Dallas.
Dr Christopher Perkins of the hospital told reporters: "We know at this time this person was not symptomatic during travel, but became symptomatic once arriving here and being home for several days, so that decreases the threat that might be to the general population."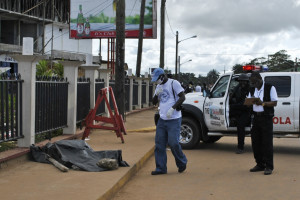 Although the death rate from Ebola is around 60%, it is not as easy to become infected as many people think, explained Dallas County Health and Human Services Director Zachary Thompson on KTVT-TV: "It is easier to get the flu than it is to get the Ebola virus.
"You have to get Ebola through secretion, blood, that type of transmission. So this is not a situation where you go to the grocery store and you get infected with the virus."
Four US aid workers have been transferred home with the Ebola virus. Of these three have made a recovery and the condition of the fourth has not been revealed due to privacy laws.
The first British person to contract the disease, Will Pooley, 29, who was working in west Africa as a volunteer nurse, was brought back to the Royal Free Hospital in London and released having made a full recovery.
The Ebola virus has killed more than 3,000 people in west Africa and the World Health Organisation have warned of a catastrophe in the region.