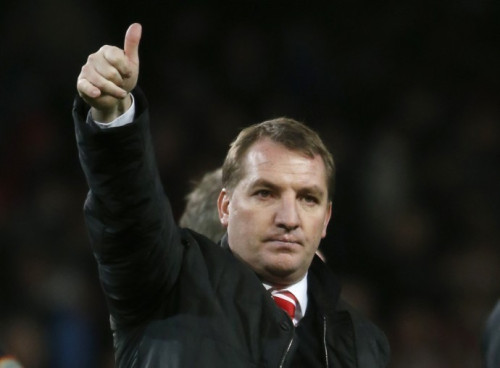 Liverpool manager Brendan Rodgers believes his side have overachieved during their last five games having bettered the points target he had previously set for the club.
After a disappointing month of December where the club relinquished top spot amid a hectic fixture schedule, Rodgers challenged his players to take at least 10 points from their first five Premier League games of 2014.
Wins over Hull City, Stoke City and Everton in addition to draws with Aston Villa and West Bromwish Albion have seen the Reds better their target and solidify their place in fourth in the table, two points ahead of Everton and seven ahead of Manchester United.
And despite surrendering their lead at the Hawthorns on Sunday, Rodgers insists the club have been performing above the expectations he initially laid out for his side.
"We're still in a good position," Rodgers told Liverpool's official website.
"We've been looking to average two points per game this season. This was the fifth game in a block of five and we've gone over our target by taking 11 points from a possible 15.
After taking the lead in the first half against Pepe Mel's side on Sunday afternoon through Daniel Sturridge, Liverpool failed to hold onto a potential three points when former Everton striker Victor Anichebe capitalised on Kolo Toure's error.
Liverpool are now preparing for the visit of Arsenal, who has retained their status of Premier League leaders after Manchester City's loss to Chelsea on Monday night.
While admitting Sunday's draw was ultimately a disappointing result for the Reds, Raheem Sterling insists the club have been given the right incentive to bounce back straight away against Arsene Wenger's side.
"The whole team is disappointed not to get the three points against West Brom," Sterling said. "The manager told us that we tried to play football and that's the most important thing.
"Hopefully we can cut the mistakes out of our game and be right up there at the end of the season. We'll just pick up and go again for the next game."