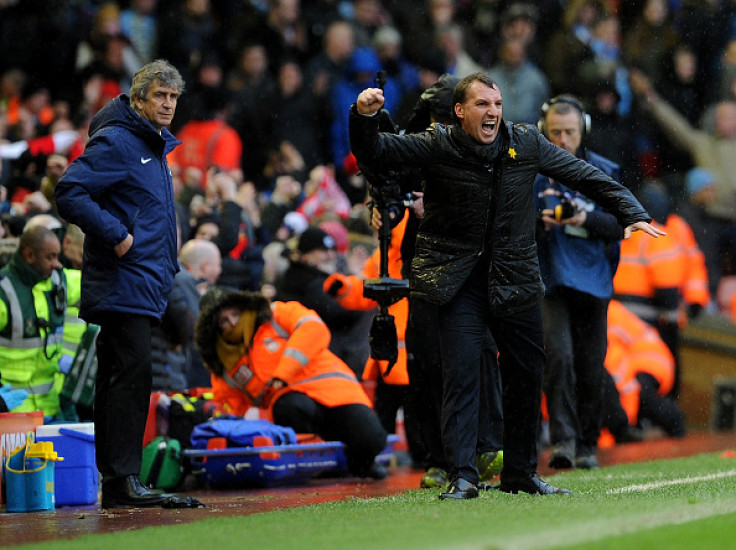 Brendan Rodgers claims Liverpool players' relentless performance helped the Reds seal a crucial victory over Manchester City at Anfield on Sunday.
Jordan Henderson opened the scoring for the Merseyside club, before it was cancelled by Edin Dzeko's strike. However, it was Philippe Coutinho's brilliant goal that helped Liverpool defeat the Premier League champions 2-1 at home.
The victory comes just after their Europa League exit following their defeat to Besiktas on penalties last Thursday. The former Swansea manager hailed his players as Liverpool had a short period to prepare for the big clash against City.
"It was a brilliant result and an equally brilliant performance I thought. We thoroughly deserved the victory," Rodgers said, as quoted by the Liverpool Echo.
"The players today were relentless in their work and their intensity and we had some great quality in our football. It was very, very pleasing."
"Anyone who came to Turkey with us feels what it was like first hand, not getting back till 4.30am, maybe not getting home till 6am."
"To then prepare yourself for a game against the Champions is no mean feat but to play like we did today with that intensity, that work, that quality, you have to take your hat off to them."
"How they performed was at a real, real top level and I've got nothing but admiration for them."
"Their focus was good in the game, they worked the system very well and as the game wore on we created more chances and we restricted Manchester City to one shot on target so to do that the whole team has to be working well," he added.
Liverpool's latest win has seen them extend their unbeaten run to 11 games, which includes eight wins and three draws. They are fifth in the table with 48 points from 27 games, trailing fourth place Manchester United by two points.
Rodgers is hoping not to get carried away in their bid to finish the season in the top four, but admitted the victory over City has kept Liverpool's hope of qualifying for the next season's Champions League alive.
"It's a big win, though there's still a lot of games to go yet. But it's a significant win for us because it takes us to another three points and keeps us on the chase," the Liverpool manager said.
"The momentum, flow and rhythm was with us throughout the game. In particular second half I thought we started it bright, the players are really making the system work for us."