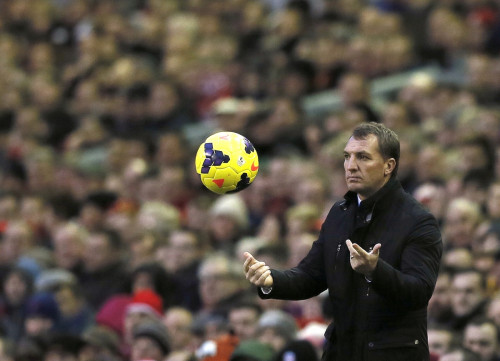 Brendan Rodgers has hailed his team for their change in mentality and expects the Reds to win their game against Arsenal at Anfield on Saturday.
The Merseyside club are currently placed eight points behind the Gunners and will need to be at their very best till the end of the season if they have to resurrect themselves as title contenders.
A win here for Liverpool will cut the gap down to five points and three behind Chelsea and Manchester City, who play later this weekend.
However, Rodgers is likely to be happy with a spot in the Champions League next season, which will be a major improvement from their seventh placed finish last season.
However, they have to improve their form against the title challengers, having failed to win against Chelsea, Manchester City and Arsenal in nthe reverse fixtures away from home.
They come into the game on the back of a 1-1 draw against West Brom at the Hawthorns and will be desperate to prove their mettle, having managed a blank in the reverse fixture.
"I think the big change for us is that we expect to win now. We're confident going into every game. When I first came in, the pressure to win was difficult for us. We expect it because of the name of the club and the size of the club but we were never that confident to consistently do it but now we go into every game expecting to win - and never more so than at Anfield," Rodgers said.
Rodgers believes that a win will spark their title challenge and keep them above the likes of Manchester United, Everton and Tottenham for a place in the top four.
"There's only 14 more games to go and every single game is critical and every team will look at the rivals and look if they can take points off them. We know that, if we win the game, we go to 50 points, five behind Arsenal and three behind the others, so for us it's a big game. We go into it as we normally do - to concentrate on our performance level," he concluded.